Long-term sustainable commitment for our acoustic solutions
At Rockfon, we believe in delivering high-quality acoustic ceiling solutions and environmentally friendly design materials. It is essential for our business to have long-term sustainability at its core. We aim to create sustainable building materials and are committed to recyclable products.
Transparency and customer trust are vital for us, which is why we consistently calculate and report our environmental performance. This information can be found in our Environmental Product Declarations (EPDs) that are available on all our local websites and also published in external databases in many countries.
Our EPDs follow all European and international standards (EN 15804, ISO 14025 for EPD, ISO 14040 (part 1 & 2) and ISO 14044) and are third-party verified. The environmental information covers the full portfolio of our products.
What is the difference between upcycling and downcycling? Isn't it all just recycling?
When you recycle, it is crucial to, where possible, upcycle instead of downcycling. This means that the product is transformed into new materials or products with better quality and value. In our production, we upcycle a lot of waste materials from other industries, so stopping them from being sent to landfill and creating higher value. As a company, long-term sustainability is one of our wider goals.
Does Rockfon offer a recycling service for the products?
Stone wool is a fully sustainable closed-loop product. It can be recycled again and again without any degradation in quality. That is why we now offer the possibility to our customers in many European markets to recycle old stone wool ceiling tiles or cut-offs from installation. We have established partnerships in many countries, and we can support you with your request for recycling.
Download our Rockfon Recycling Service brochure.
What is recycled content, and why is it important that I purchase products with a high level of recycled content?
Recycled content is the part of a product that comes from previously waste materials that are recycled. It is essential to select products that have a high level of recycled content because it means you contribute to saving more primary and scarce resources while also utilizing more waste which would otherwise be sent to landfill. Buying products where the recycled content comes from upcycled, rather than downcycled waste materials, (as explained above) is also crucial. Having high recycled content contributes to sustainable building materials and reduces resource consumption.
How can Rockfon products help my building become more sustainable?
Rockfon is your sustainable building partner. Apart from their low embodied environmental impacts, which are transparently documented in our EPDs, Rockfon products can be reused and recycled, and they have a high level of recycled content from upcycling waste materials. Rockfon acoustic solutions have multiple environmental benefits for a building as well. They have the best-in-class indoor climate labels and have excellent fire resilience, thus creating safe conditions for the building's users. They also contribute to a healthy indoor environment by improving the air quality, the acoustic environment and aesthetic performance of all building types, from offices to medical buildings and learning environments, such as schools and universities. Finally, Rockfon ceiling tiles provide excellent light reflection, which can bring energy savings, boost work performance, enhance work conditions and improve comfort.
How do Rockfon products help me with my sustainability certification?
If you are looking to have a green building certification like LEED®, BREEAM®, DGNB®, WELL, HQE, Verde, Greenstar or similar, we can help you achieve your goals by delivering products and solutions with documented benefits. With annual green building construction spending expected to grow 15% year on year (USGBC 2015), we want to simplify the time-consuming documentation process for building certification. For this reason, you can find all the relevant information about how each product helps you in your certification in our published "Sustainability Declarations" which are available on our website. These reports help you make easy decisions around sustainability.
Discover more about Rockfon and why we are your sustainable building partner.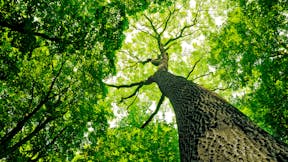 We contribute to circular economy
We believe that a truly sustainable profile for building materials includes - combatting climate change; growing the circular economy; and safeguarding citizens' well-being.