The COVID-19 pandemic has escalated the importance of wellbeing for all of us, with interior spaces playing a hugh role in this. We highlight some of the key factors causing sick buildings and what you can do to change it.
Close the door on pollution? Don't think so…
We might think that by closing our doors and windows we leave all the bad effects of pollution out of our house, but the reality is very different. Indoor air quality can often be worse than outdoors (EPA, 2021) which is especially worrying as according to Klepeis et al. (2001), we spend more than 90% of our time indoors. Putting a focus on good indoor air quality is essential for our health and wellbeing.
Know your enemy, know yourself
As Sun Tzu wrote in the book "Art of war", "if you know your enemy and you know yourself you shall win a hundred battles without loss". We need to understand the root causes in order to solve the problem.
There are three main culprits. Firstly, emissions from the combustion of fuels for cooking and heating can be a very strong cause of indoor pollution that is able to cause significant adverse effects. Secondly, poor air purification can encourage the growth of fungi and bacteria which can lead to poor indoor air quality. Finally, Volatile Organic Compounds (VOCs) which are emitted as gases from the surface of building materials, paints, varnishes, cleaning products and furniture have a range of detrimental health effects.
Still not convinced?
The health effects of poor indoor air quality can vary from low levels of concentration and fatigue to premature death. It can have an effect on our cognitive functioning and lead to reduced productivity. The impact of VOCs can lead to air and throat irritation, nausea and headaches (WHO, n.d.).
Studies have shown that cognitive scores can be 101% higher in buildings that have invested in good indoor air quality and enhanced ventilation (Allen J., et al., 2016). The investment will not only lead to healthier and happier people but can have a direct economic impact. Highly engaged employees can lead to an improved business performance by up to 30% and 3 out of 4 building owners report that healthy buildings can be more easily leased.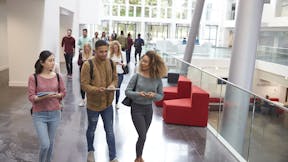 Creating a positive feedback loop
Sustainability also means wellbeing. When designing interior spaces, there are major concerns around indoor pollutants. Luckily our products have the best-in-class indoor climate labels.