Shh! We're designing offices for wellbeing
Do you want to make your next office design sound as good as it looks? Open plan offices, polished concrete floors and exposed ceilings are driving a growing need for acoustic improvements.
In this document, we share insights on how our acoustic wall and ceiling systems help people to create, concentrate and collaborate, while improving productivity and wellbeing at work.
There are key trends shaping office design today.
Flexibility
Occupiers need open plan, agile office space which can easily adjust to day-to-day work styles without the need for significant renovations.
Our acoustic solutions easily integrate with the interior design. You have the freedom to choose in multiple formats, edges and colours that futureproof the office space and make people feel comfortable.
Wellbeing
Whilst wellbeing is already a central tenet of office design, employees will become increasingly aware of what they need to work at their best. Designing spaces which help people improve their concentration levels, productivity and speech intelligibility whilst optimising privacy and mental health will be given much more attention.
Wellbeing sits at the heart of everything we do. Our acoustic solutions promote comfort, wellbeing and productivity by reducing noise and reverberation in any type of office. They provide the ability for people to work, concentrate and collaborate without being distracted.
Safety built-in
Extended scrutiny will be focused on the safety of building materials for office occupiers, in terms of their fire resistance, particle emissions and cleanability.
Sourced from natural stone, our solutions repel mould and bacteria. They're durable, fire resistant, easily cleaned and awarded best-in-class indoor climate labels making it easier to keep healthy buildings for happier occupants.
Building green
Sustainability will continue to occupy centre stage, with a growing spotlight specifically on product durability and how construction products contribute to a circular economy.
Stone wool contributes to the circular economy. Our products are durable and lasts until they're recycled to make more. We're continuously working to reduce our carbon footprint across our supply chain, and our acoustic solutions are fully close looped, where nothing gets wasted.
How to design for different spaces in an office
Make a great first impression in the reception area
The reception area is the first focal point to welcome employees and visitors, setting the tone for the company and the brand.
A great reception design focuses on acoustic comfort, elegance, durability, and simplicity. Overall, it capitalises on comfort, natural daylight and acoustic elegance. Generally, the reception is filled with hard surfaces such as glass, tiles and stone. It causes sound to reverberate creating a noisy and unpleasant experience.
Creating a positive experience from the moment your customers enter an office is really important. By adding a splash of corporate colour, ensuring a comfortable indoor climate with natural daylight and high sound absorption helps the reception create a welcoming experience.
Acoustic design advice
Three suggestions for creating a great acoustic environment in the reception area:
Use high-quality sound-absorbing materials to ensure speech clarity and reduce reverberation.
Use biophilic design and bring in plants and vertical gardens to break up the space and soften the echoes.
Use fabric to also soften reverberation
We recommend our Rockfon ® Mono® Acoustic as it gives a unique design solution with its innovative monolithic surface, it delivers outstanding acoustic comfort and reduces the need for artificial light due to its high light reflection and light diffusion properties. Rockfon Blanka® offers you the best acoustic properties to ensure a comfortable noise level. Its super white surface helps you to exploit natural light and draw it further into the space.
Chicago Metallic™ Matt-White 11 Grid reduces the visual contrasts between your grid and tile giving you an elegant and almost monolithic look. Rockfon Color-all® gives you the design freedom to invite 34 exclusive and inspiring colours into your design. It enhances your acoustic comfort and your interior design scheme with a touch of personality.
Corridor and breakout area design solutions
Principally used for navigating to different parts of the building, corridors have a high level of footfall and often become spaces for improvised meetings and conversations that can be distracting for colleagues. If the noise is not controlled, the sound travels throughout the building and can lead to employees losing concentration.
To properly control noise, it's important to consider excellent acoustics as well as behavioural and zoning techniques. This combination can help to reduce agitation caused by conversational talk while fostering collaboration and communication.
Acoustic design advice
Using high-quality sound-absorbing material on the ceiling and walls, you can create a layout strategy that will improve concentration without interrupting spontaneous conversation.
Have sound barriers separating the hallways from the other working areas.
White noise can help blur out the conversations that are going on, making it easier to concentrate.
Our recommendations for creating acoustic harmony in corridors include Rockfon Blanka® which comes in a wide variety of dimensions and edges to complement every space. Not only is it our whitest and brightest tile, but it also gives you the best-in-class acoustics. Rockfon® Tropic™ is our all-round tile with Class A sound absorption and a smooth white surface. It's available in a selection of standard edges and dimensions making it a popular and affordable choice.
Open plan office design solutions
Using the office to promote wellbeing is becoming standard practice with good acoustics being a key part. Whilst an open plan office is designed to facilitate collaboration and inspire group interactions, it can be difficult for workers to concentrate. Good quality sound absorption and sound insulation ensure open plan areas are fit for purpose.
For best sound management, it's essential to understand how sound behaves and travels within a certain space and its impact on employee productivity and wellbeing.
Acoustic design advice.
Ensure that you have thick and dense sound-absorbing materials on the ceilings to ensure speech clarity especially in the low frequencies.
Use high-quality sound-absorbing materials on the walls.
Have soft material on the floors to counteract impact sounds
Perfect for offices, we recommend Rockfon® Universal™ Baffle, Rockfon Eclipse® wall panel, Rockfon Eclipse® island and Rockfon Blanka® Activity. They all provide excellent sound absorption and lots of design flexibility.
Meeting room design solutions
Meeting rooms are key spaces and being able to engage - especially in a large room with lots of people - participants need to be able to hear what is said. Avoiding echo from sound bouncing of the walls is important as well as ensuring speech clarity and good sound insulation.
The environment needs to be sound-proof so everybody is able to hear properly. And noise in meeting rooms easily reverberate off hard surfaces so proper sound absorption and sound insulation is vital.
Acoustic design ideas:
Three things you can do to improve the acoustic environment in meeting rooms.
Ensure that you have thick and dense sound-absorbing and sound insulating materials on the ceilings to avoid sound from leaving the room.
Use high-quality sound-absorbing materials on the walls to avoid echoing.
Have soft material on the floors to improve sound absorption.
Get the right headspace with colour
Colour is a great way to set the tone in a room and get people in the right mood for actively sharing ideas. And why not add a splash of colour in the meeting room? It will breathe life and initiative a creative atmosphere.
We recommend our inspiring and versatile acoustic ceiling tile, Rockfon Color-all® - it gives you the freedom to choose from 34 contemporary colours to unleash your imagination. Alternatively, our Rockfon Blanka® gives you the best acoustic properties that ensure a comfortable sound level and our Rockfon dB range of high absorbent acoustic tile reduces the room-to-room noise transmission.
Canteen design solutions
A canteen or kitchen is a social space for employees to chat with each other, becoming very busy and noisy at lunchtimes. The rattle of knives, forks, plates and glasses hitting the table combined with group conversations can cause noise levels to quickly escalate to an uncomfortable space.
It requires a thoughtful acoustic design that solve the acoustic challenge whilst being durable enough for regular cleaning.
Acoustic design ideas
Three things you can do to improve the acoustic environment in the canteen.
Use sound-absorbing solutions that meet the most rigorous hygiene codes and safety regulations and that are resistant to mould and bacteria.
Use highly sound-absorbing ceilings and wall solutions to control the noise levels.
Play with the design of the ceiling and walls to create a warm and inviting atmosphere in this large space.
Despite it being a canteen, it shouldn't look dull! We recommend our Rockfon Eclipse®. It's our beautiful, frameless acoustic island that comes in a variety of geometric shapes. They're perfect for improving sound absorption while giving a fun or aesthetic design. Rockfon Blanka® is our brightest ceiling tile that has the best acoustic properties while capitalising on natural light for a comfortable space. Rockfon® Hygienic™ is our non-hygroscopic and durable ceiling tile perfect for areas with frequent cleaning.
The right product in the right space
People can't work and be productive if they can't concentrate. Wellbeing is a central tenet of the workspace, and to promote a strong indoor climate, you need great acoustics as much as you need a stunning design. Please have a look at our overview to see what products we recommend for the perfect combination of style and acoustic comfort.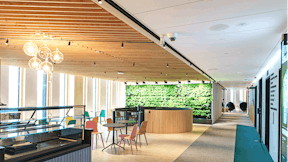 Noisy office?
Let us help! We're designing offices for wellbeing and productivity.