Anne Marie is a visionary in the field of Behavioural Architecture, using design to cultivate meaningful social connections between people. She foresees a future in which office spaces are tailored to the unique needs and work styles of individuals, and is an expert in strategic thinking, using it to create solutions that align with a company's goals.
With her passion and expertise, Anne Marie is leading the charge in designing the offices of the future – spaces that are not only functional, but also uplifting and inspiring for the people who work in them.
How did you get started working in your field of expertise?
I have since my early career been interested in how architecture impacts our experience. And when I met the concepts evidence-based design and healing architecture things were moving fast. Because suddenly I as a designer could argue research based for solutions and start using architecture as a strategic approach to improve wellness and experience.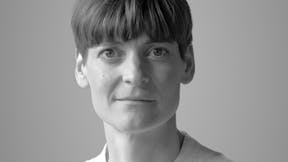 Meet Anne Marie Tommerup
Anne Marie Tommerup graduated from the Royal Danish Academy of Architecture in 2004. She also has an executive MBA from the Copenhagen Business School. She founded Together Architecture with co-founder Frederikke Aagaard in 2019. Her passion is working with sensory experiences, work environments and improving the quality of life for people.