lain McIlwee, CEO of the Finishes and Interiors Sector (FIS), spoke at the Launch Open Day of the new Rockfon Training Centre in Daventry, England. McIlwee's talk, "How far does training and skills competence go hand-in-hand", focused on culture, trust, and transformation. He mourned that the tragic events that led to the death of 72 people in West London in 2017 were in no small part due to failings in the construction process, saying, "…with this very much in mind, those within the construction industry had to bring about change".
He explained that the "FIS Quality Framework", built around Product, Process, and People, was part of his organisation's reaction to the tragedy. He feared, though, "We are some ways from understanding the complexity and responsibility of demonstrating Performance, Competence, Organisational Capability, and Quality Control".
McIlwee acknowledged that the focus of the Training Centre launch was to expand knowledge and expertise, which would result in increased competence. He wanted to hone in on a key quote from Dame Judith Hackitt's 2018 interim report, Raising the Bar: "The lack of a coherent and comprehensive approach to competence can seriously compromise the fire safety of HRRBs, for example, where decisions are taken and/or materials are installed by people who do not fully understand the implications of how to achieve good quality building work, and the implications of getting it wrong". He recognised the statement wasn't inferring that all were incompetent but that, while there was a lot of talk about skills, there had been a cavalier approach to managing competence.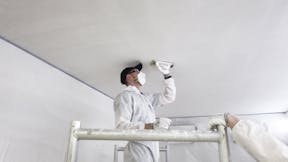 Rockfon Training Courses
Rockfon courses cover every facet of the company's ceiling and acoustic systems ranges and range from half-day taster sessions through to deep dives into advanced systems.