Changing trends, increased focus on sustainability and speed of technological development. These challenges place great demands on manufacturers in the construction industry, who must constantly listen to and act on the needs of the market. This is something that is felt and taken away by the acoustic manufacturer Rockfon, which with Danish headquarters in Hedehusene, supplies acoustic ceilings for a wide range of projects in the country.
"There is momentum in the construction industry and the industry in general. And that's really positive", explains Rockfon CEO Parik Chopra. "As a company, one must be geared to keep up with the rapid development and challenges facing the world. That is why we are now upgrading our innovation and design department. An international department, consisting of talented specialists, who develop acoustic solutions focusing on Danish design thinking and international trends".
In order to accelerate this acoustic solutions development, Rockfon has thus brought in reinforcements in the form of Christian Klinge, the new Director of Innovation. With him at the forefront of the team, Rockfon's innovation approach needs to reach an even higher level, resulting in pioneering and state-of-the-art acoustic ceilings.
"We want to create acoustic solutions for the future that combine design and innovation with new technology", he states.
Design and architecture in the blood
Christian Klinge comes from the consulting engineering company ÅF, having worked there for 12 years. Klinge operated the last year and a half as Innovation Manager in the Architecture and Design business area. He is a trained lighting designer and comes from an industry where design and architecture form the focal points of attention.
At Rockfon, one of his most important tasks will be to develop the acoustic agenda, for which the further optimization of the user experience will be of central importance.
"User-centered design is the key word for innovation at Rockfon. We have a responsibility to put acoustics on the agenda with the recipient at the center. We want to create acoustic solutions of the future that combine design and innovation with new technology based on user needs. Something that is in great demand in the market and not least among architects", explains Christian Klinge.
"It's all about getting the different parts to go hand in hand, making it as easy and accessible to the market as possible. It is an exciting challenge that I have solid experience with from my previous job. I look forward to rolling out the many visions and ideas at Rockfon", concludes the newly hired Innovation Manager, who started the new job early August.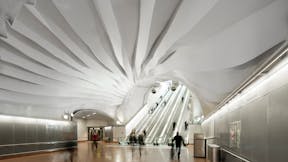 Innovative solutions
Sustainable, user-friendly and innovative acoustic solutions