How noisy can a classroom be?
One of the greatest enemies of students and teachers is noise. Schools can be extremely loud places where both pupils and educators are often distracted and annoyed by sounds. When noises become too loud, teachers can often experience headaches and fatigue, where children can lose their ability to focus and learn effectively.
In some Polish schools, noise can exceed the recommended levels, becoming louder than the noise you experience at a busy road or near an airport or even inside a noisy restaurant. Noise can be a troublesome problem in overcrowded primary schools in Poland, which are often built in old, unmodified buildings. The Institute of Physiology and Pathology of Hearing from Warsaw notes that exposure to 'acoustic smog' damages the hearing cells.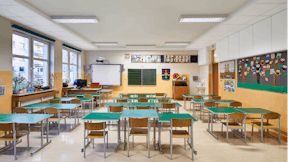 Design for schools
Rockfon acoustic solutions reduce noise levels in classrooms, sports halls, swimming pools and canteens so that students can hear, concentrate, learn, relax and play.