Students are the future
No matter their background or their field of study, students are going to take our countries forward. We should always celebrate those who strive and want to gain more knowledge. And a lot of students are going to great lengths to do so.
For almost 80 years, the 17th November is marked as The International Students' Day. It is celebration day all around the world with a special focus on ensuring education is available for all students. It is a commemoration for student activism and every year the OBESSU (Organising Bureau of European School Student Unions) raise awareness for students' rights and needs with a variety of activities. The main goal is to improve higher education for students and society.[1]
Students display and celebrate their acts of social responsibility and showcase their engagement to education.
"The International Students" day manifest development and seek for improvements for students, we build the future of tomorrow. Our broad range of acoustic solutions gives you the freedom to design better learning environments.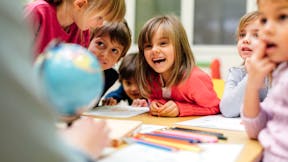 Acoustic improvements in education
Most schools and universities struggle with noise in classrooms, sports halls, swimming pools and canteens. We can help reduce noise levels so that students can learn and play happily, while teachers stay calm and focused.