Aha! From great materials comes the best solutions
I like to keep things simple, and Rockfon® MediCare® is the best fit for any hospital or health care facility. Now for those of you who might want a little more information, allow me to elaborate. To do that, I will have to start at the beginning, because no matter which Rockfon ceiling product you choose; it all starts with stone wool.
The natural properties of stone wool used in our ceiling tiles go hand in hand with health and wellbeing. Stone wool has an excellent fire resistance that can withstand high temperature. To be exact, stone wool can withstand temperatures up to 1000°C and only reaches its melting point at about 1260°C. This entitles our products to receive the highest reaction to fire class certificate, and even more importantly, it guarantees the safety of your buildings and the people inside them.
If you want to know more about the fire properties of stone wool, please contact our Technical Department.


How to create better and healthier environments for patients and health care workers
An even more directly related health benefit of our stone wool ceiling tiles is the acoustic properties naturally imbedded in our raw material. High sound absorption and better acoustics are fast becoming the little black dress of any new building project and within health care, good acoustics is even more important than anywhere else.
High sound absorption and as a result clear speech intelligibility ensures that a patient clearly understands the diagnosis spoken out loud by his or her doctor. It helps absorb excessive sound and keep the noise level low and comfortable as it should be within a healing environment. And it's not just a benefit for the patients and their relatives. It also creates a pleasant work environment for the health care workers carrying some of the most important jobs in any country
Why can't I choose any Rockfon product for my healthcare projects?
This is an excellent question. The answer is strictly linked to the purpose of the room at the hospital. For some hospital areas, specific healthcare regulations might be less relevant, and other non-health properties are preferred and prioritized.
Let me give you two examples:
In a rest area or patient recovery areas, a colourful ceiling might be a higher priority than an airtight ceiling or a ceiling with cleanroom
certification. Here the purpose is to create a comfortable, welcoming and healing atmosphere for the recovery. For such areas, I might recommend our Rockfon® Color-all®.

Our Rockfon® Color-all® is an acoustic ceiling tile available in 34 modern colours that benefit from 100 % humidity resistance, and they provide no sustenance for microorganism, creating a healthier environment with good sound. This should of course always be assessed on a case by case basis as some rest areas have more stringent requirements than others, and above all, safety should be the highest concern when choosing products for the healthcare sector.
Another example could be within a non-critical patient room. Studies have shown that patients exposed to more natural light experience a positive impact on their recovery. We believe that acoustic ceilings should provide better light reflection so the natural light will reflect and create a vibrant and bright room.

Any Rockfon ceiling, like the Rockfon Blanka®, with a light reflection of 87% or higher, increases the daylight factory by 11%, bringing in more light into the room. For this reason, Rockfon Blanka® is a great addition to patient recovery rooms, but to be sure, always check with your local building regulations to create better and healthier recover surroundings.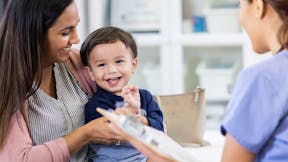 The sound of good health
Our acoustic solutions create calmer, healthier buildings where patients can rest, heal and feel more at home.