An organic partnership
The Sustainability Team explains why it is an organic fit for Rockfon to launch this project.

"Our sustainable acoustic ceilings create a better indoor climate and well-being in offices, schools, hospitals and many other spaces. Our acoustic panels are made of stone wool, a naturally occurring material in nature. We create products that focus on nature and sustainability, so it is natural for us to also look inwards - and what's better than starting in your own backyard? That's why we entered into a collaboration with Bybi".
Bybi has beehives with many companies and organizations around Denmark. The Director of Bybi, Oliver Maxwell talks about the project:
"We have chosen to collaborate with Rockfon, as it is not just about bees, but how a company can help improve nature".
The small golden yellow-brown insects are an important pollinator and inspire us, humans, to plant more flowers for all pollinating insects. In addition, the bees collect nectar from flowers, which can be collected from their nest. That nectar then turns into the sweet honey that you can probably already taste just by thinking about it.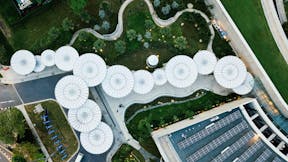 Rockfon is your sustainable building partner
Rockfon is the sustainable construction material choice and your contribution to the circular economy