The impacts of noise pollution
The definition of noise pollution is when the spread of noise negatively affects our lives and it's one of the main problems modern hospitals face today. The hospital environment is filled with excessive noises from beepers, alarms, machines, rolling carts, HVAC systems and conversations.
It can be harmful to patients and an irritant for the medical staff. Many nurses feel that noise negatively influence them, causing fatigue, distraction and headaches. One study found how using sound-absorbing ceiling tiles influence the nurses' attitudes as patients felt a positive approach from the nurses during their treatment. (1)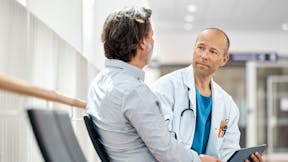 Create calm spaces for healing and rest
Our acoustic solutions create calmer, healthier buildings where patients can rest, heal and feel more at home.