Renovating offices from dark to dazzling
Danish land surveyor LE34 has played an important role in development in the development of Denmark since 1900. In January 2016, the company decided to move its premises and relocated to the Katrinebjerg district of Aarhus — the famous 'IT City' of Denmark, full of forward-looking tech companies. Unfortunately, the building LE34 moved into was old and dark.
"It's always interesting when working with such an old building," says Morten Lovén, Architect and Construction Manager for Vision Arkitekter, which is the company that designed, constructed, managed and supervised the renovation project. "You have to try and create the best possible interior design that fits within the existing parameters."
Using the right ceiling to brighten the light
LE34 wanted a brightly-lit modern interior. What they had was a dark and depressing 1980s block. The main source of natural light was a tall glass façade at the front of the building and some average-sized windows running along the outer walls, which could not be enlarged for structural reasons. "We had to work within a given framework and a given façade," says Lovén, "so it was important that the light be projected as far into the building as possible."
Facing this challenge, Lovén looked for a way to remedy the poor distribution of light throughout the building. He chose Rockfon Blanka®. Thanks to its superior light reflection properties, Rockfon Blanka acoustic ceilings circulate and amplify the light that comes in through the façade and the windows, transforming the entire space from drab to delightful.
A flexible framework for renovating any office
The other major challenge was to redesign the existing floorplan to make better use of the light and the space, but this required a ceiling that could adapt to different usages. Lovén put the shared social area in the centre of the space, with open plan desks radiating outward from there and running along the outer edge of the building. This would give the desks the most natural light, but it required a clever ceiling design. "We had to find the best possible ceiling solution and integrate certain installations in and around the interior," says Lovén. Rockfon Blanka® rose to the challenge. Not only is a standardised system that integrates easily with other systems, such as lighting, its high light-reflection and diffusion properties draw light through the building, fulfilling the vision for a spacious and airy interior. The unique tiled design also has a sleek, white, streamlined look, which draws the eye further and creates the illusion of a larger, brighter space.
LE34
Katrinebjergvej 91
8200 Aarhus
Denemarken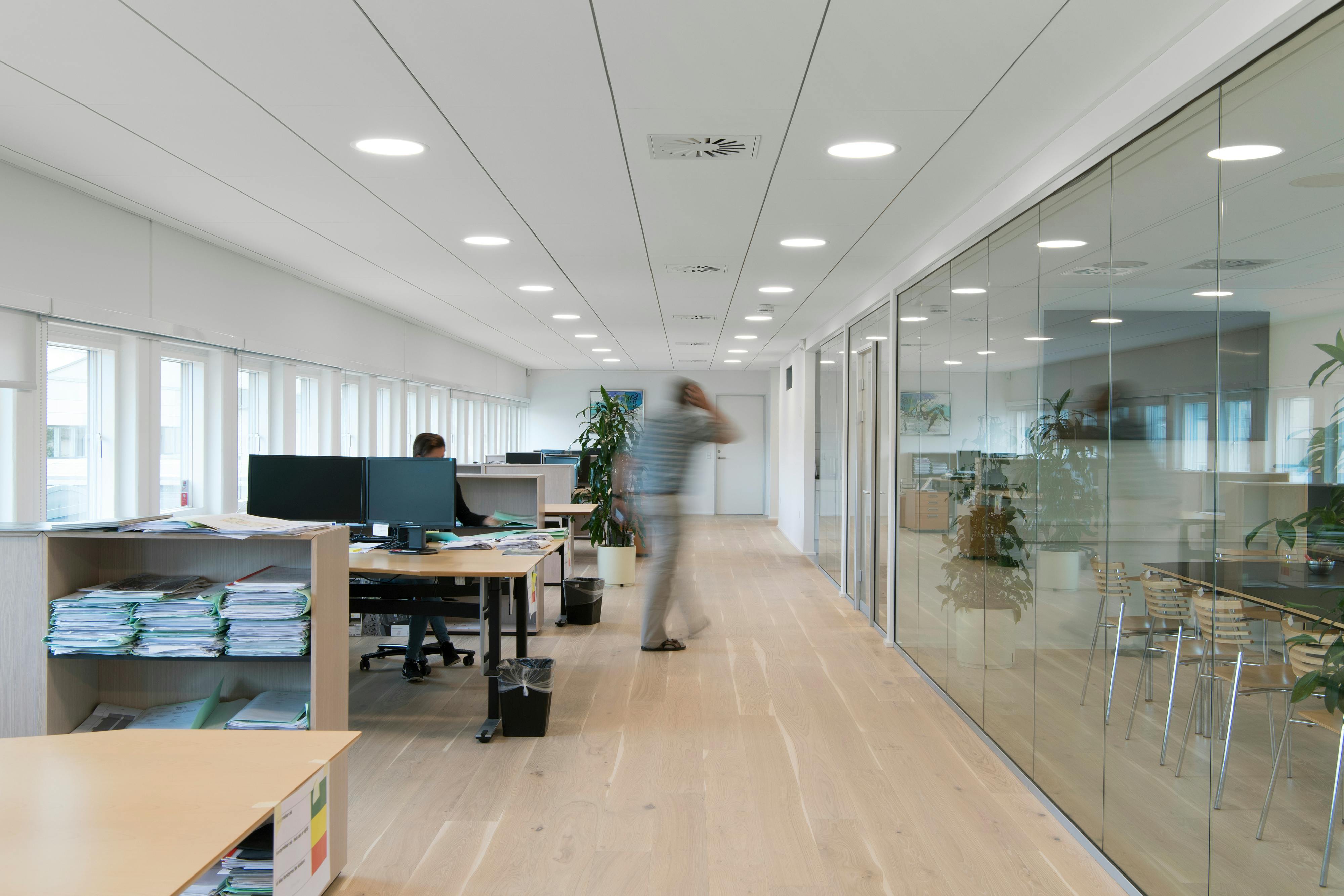 Offices of LE34
Rockfon Blanka® acoustic ceilings amplify the amount of daylight drawn into a space, creating a brighter, healthier and more comfortable indoor climate for LE34