Nuan, the design agency that had previously created Paytrail's headquarters in Jyväskylä, was in charge of designing the interior of the company's Tampere office. Sanna Laukanaho, Nuan's interior architect, says there was a significant change that took place in the office space when they decided to use an exposed concrete surface:
"Paytrail wanted workspaces that are consistent with the company's brand, that support employee well-being, and may be utilised for a variety of purposes, including team meetings and social events. We were already familiar with Paytrail's corporate culture, so we started by focusing on employees and their work activity. We worked closely with Paytrail to ensure that the whole space reflected the company's working culture while also providing a variety of working moods."
Transforming Rockfon® Canva acoustic panels into a work of art
Paytrail's office is one of the first locations in Finland to use the new Rockfon Canva acoustic solution. This product range includes wall panels, floor screens and hanging dividers, allowing you to create flexible, feel-good spaces. It comes in Rockfon's palette of 34 contemporary Colours of Wellbeing or you can create your own customised design. The canvases are detachable which mean you simply order a new canvas to refresh the look when tenants or room functions change.
Paytrail
Hämeenkatu 5
Tampere
Finland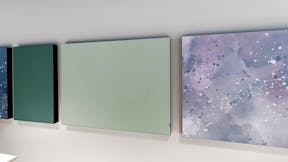 We interview Sanna Laukanaho