Rockfon drapes Stockholm's Station city in acoustic comfort
Stockholm has a long tradition of public art, and its metro stations are no exception. Many commuters navigate around the stations using the permanent artwork displays as a guide.
When Stockholm announced an open competition to create an art installation for the new commuter train station, local artist Karin Lindh was eager to apply. "I travel with the subway and I am very fond of these different stations". For the artist, the architectural drawings for the new Station City were equivalent to grand cathedrals.
Crisp design calls for flexibility
With that in mind, Lindh found inspiration in different cathedrals; one of them was the Santa Maria della Vittoria in Rome, where she came across Bernini's sculpture, the Ecstasy of Saint Teresa. "Bernini skillfully worked with daylight, architecture and sculpture" says Lindh. "I wanted to play with daylight in a similar way, but perhaps a little crisper and less baroque".
Creating the new entrance to the train station was a challenge. Lindh's artistic vision called for a rippling, pleated fabric, draping the ceiling of the 200 m2 mezzanine.
Recognising the difficulties, the project leader suggested constructing the sculpture onsite. After testing various materials the team chose Rockfon® Mono® Acoustic to realise the artist's vision. "The panels are flexible and can be bent, creating both sharp and soft bends" says Thomas Svensen from TS Akustik.
Shaping design
The expressiveness and seamlessness of the design did not compromise the excellent acoustics that Rockfon Mono Acoustic provides. This was an important consideration in the design of the station, given that 125,000 people pass through it each day.
Stockholm Station City
Centralplan 15
111 20 Stockholm
Sweden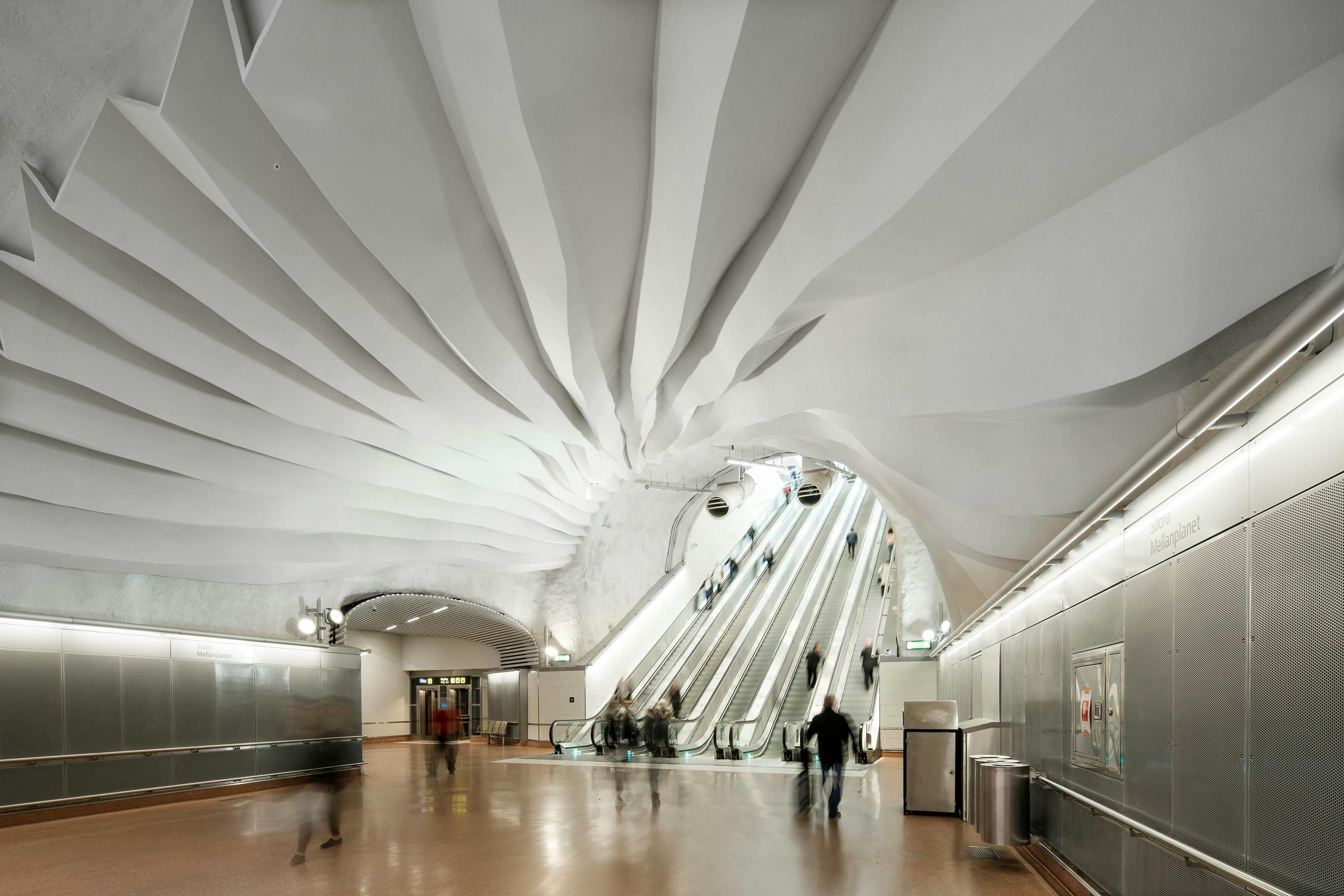 City Metro Station, Stockholm, Sweden
Rockfon® Mono® Acoustic allowed to create a striking visual effect in the main corridor.