The investor, PKO BP, wanted to preserve the building's legacy while creating a sustainable public space and modern building for city inhabitants.
Renowned architects Gowin&Siuta were selected through an international contest, "Changing the Face Rotunda Warsaw 2013", to lead the renovation project. They focused on preserving the building's size, form, and character while restoring its original lightness, translucency, availability, and transparency.
Biophilic Design, Acoustic Efficiency, and Quality Lighting
The investor wanted to create a positive and comfortable space for customers and employees, incorporating biophilic elements, prioritising quality lighting, air, and acoustic efficiency. The interior architecture of the building features numerous biophilic elements such as living walls and natural materials, contributing to a healthier and more productive interior.
The Rockfon Blanka ceiling was selected for the personal and business banking customer service zone on level -1, providing high acoustic comfort on the entire floor. Its elegant and ultra-matte surface diffuses 99% of light and reflects 87%, enhancing overall light comfort and productivity. However, the installation of the ceiling proved challenging due to the rounded shapes of the interior and very low mounting height.
Sustainable Design and Certifications
The building's modernity is evidenced by its BREEAM Excellent and LEED Gold certifications. All building materials and finishing elements meet strict criteria for energy, water, resource savings, and pollution reduction. The Blanka acoustic ceiling tiles are Cradle to Cradle Certified® Silver, aligning with the project's sustainability goals.
Rotunda PKO Bank Polski
ulica Marszalkowska 100/102,
00-026 Warsaw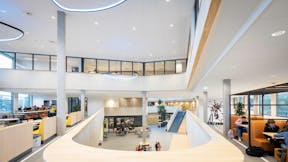 Product Brochure: Rockfon Blanka®
When they were developing this product, our engineers were on a mission: to develop the whitest stone wool ceiling tile ever