When building new or renovating, there are many factors that need to be considered — such as visual aesthetics, functionality of the solutions, ease of installation, and the like. Uniting all these requirements can be a challenging and time-consuming task.
For the acoustic ceiling, there are many options and solution types to consider, from suspended ceilings to islands and baffles, each of them has its own advantages in relation to the needs of the specific build.
What Are the Benefits of Using Ceiling Sound Baffles
One of the increasingly popular acoustic solutions are ceiling baffles. Free-hanging acoustic baffles are great for certain type of installations and can come with several benefits such as:
According to studies, natural light has also been shown to promote work performance, work conditions, and comfort. Ceiling sound baffles represent the perfect solution when wanting daylight to enter unhindered, for example via windows located in the roof space. Rockfon's ceiling baffles delivers high light reflection and light diffusion by up to 85%. This can result in annual energy savings of up to 22.75%.


The alignment and spacing of individual sound baffles can be determined by the designer. Plus, Rockfon's acoustic baffles come in a wide range of sizes and edges. Furthermore, within our portfolio of acoustics baffles, Rockfon® Universal™ is available in 34 exclusive colours reflecting "Colours of Wellbeing". Overall, Rockfon's ceiling sound baffles allow total design freedom, where you can enhance the interior design scheme within each ceiling.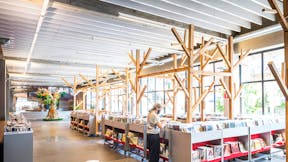 Rockfon® Universal™ Baffle
Creative and innovative acoustic solutions, available in Universal White and the 33 inspiring colours from the Rockfon Color-all range