Does Sound Affect the Way We Taste?
Dining out in restaurants is not just about food. It is also about sound. Scientific research shows that acoustics, background music and noise levels affect not only the atmosphere but also the way we experience what we eat and drink. There is a direct link between the ear and the nose which might explain how and why noise affects our taste.
For example, classical music is said to enhance the perceived quality of food and wine. High-pitched musical notes can boost sweetness, while low notes accentuate bitterness. On the other hand, sound can also reduce taste and loud background noise can negatively affect how we experience flavour and texture. Excess noise can also breed a bothersome vocal effect known as the "Lombard Effect", potentially sabotaging the customer experience.
Looking at the reviews on platforms like TripAdvisor and Yelp, the customers are voicing their opinions on their experiences. US National Restaurant Review found that the 2nd most common complaint from restaurant visitors was background noise.
When a customer walks into a restaurant, they should feel like they want to be there. The busyness should not drive people away, and the restaurant ceiling should not give the impression of being completed at the last minute. Both bold and subtle colours will be on the top of the restaurant design menu as it influences the customers' senses.
So, when designing a restaurant décor, it is important to find the right balance between atmosphere and acoustics in restaurants. And this goes way beyond adjusting the playlist or turning the volume up or down.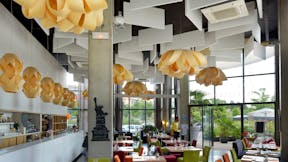 Restaurant Acoustics
Depending on the look and feel you want to create in a space, different tile edges can serve as a decorative visual for your design. But finding the right acoustic ceiling tile edge that will tie your architectural design together can be a laborious process.
Rockfon CleanSpace Portfolio
We are introducing you to our Rockfon CleanSpace range of products designed to meet increasing hygiene demands.