In response to evolved traveller demand post-pandemic, hotels have been taking on renovations to align interior aesthetics with health-related features, allowing for both guest comfort and visual appeal.
In response to the new demand, hotel renovations have aligned the interior aesthetics with health-related features focused on cleanliness, inspiring guest confidence with impeccable imagery while creating a productive work environment for staffs.
How often do hotels renovate? It depends on the need for renovating since economics and the market segment demands play a critical role in planning. Generally speaking, most hotels should refresh the interiors at least every three to five years. For some hotels, significant fix ups are necessary to meet the changing markets affecting the hotel codes, instigating upgrades with innovative technology to meet guest preferences.
An essential piece of advice
Do not confuse renovation in a hotel with routine maintenance that needs to be completed before welcoming the next rush of guests. Typically, interior maintenance involves cleaning and repainting the room walls and replacement of outdated, worn, or damaged furniture and decorations.
How Focusing on Acoustics Can Improve Guests' Comfort?
The most common renovation request in the hotel industry is noise reduction. When the proper acoustical designs are fully integrated throughout the hotel's environment, noisy hotel elements significantly diminish. Thanks to acoustical hotel building materials, renovation design qualities generate a more pleasant guest experience when combined with good architecture, interior design, and functional aesthetics.
A great example is the use of acoustic ceiling tiles. Designs range from chic to elegant, each proven to be successful for quieting the noise and lessening the sound reflections. You need to choose wisely and carefully, since changing ceiling designs will affect not only the visual theme but also the whole brand identity — creating lasting impressions for the guest to take home with them.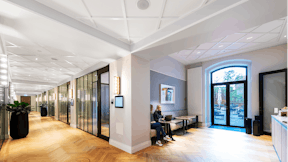 A beautiful acoustic ceiling design
Hotel Villa Copenhagen opted for an aesthetical and acoustical pleasing ceiling design bringing comfort and visual appeal into the hotel.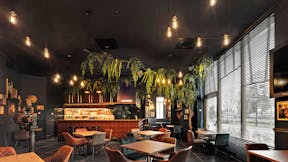 Plopsa Hotel
Dinning under a starry sky and enjoy a warm atmosphere thanks to the Rockfon Color-all® ceiling panels in Charcoal. It gives a cave feeling with integrated lighting giving the effect of a starry sky.