Why is noise considered as a dangerous feature in open office spaces?
Nowadays, more and more modern office designs have polished concrete floors and exposed ceilings. The design of workspaces accommodate the different needs and support employees' work activities, but have you considered that an excessive noise level can harm productivity and the well-being of the employees?
Hard and smooth surfaces look good, but every sound wave is reflected and harm the acoustic environment. And with a higher demand for a social connection with the workplace and colleagues creates a noisy environment.

Research shows that bad acoustic environments with no sound absorption will decrease productivity by 66 %, which means that nearly 1 in every 3 employees are losing one or more hours of productivity.[1]
We take noise seriously as it impacts our health. Around 51 % of office workers complain about concentration problems while working in an open office and around 36 % of the workers have experienced annoyance or frustration.
Start to think acoustically and remove "conversational distractions"
An acoustic indoor environment should consider the source of the noise, its path, and the receiver who hears it as it can reduce the noise pollution.
Modular acoustic ceiling tiles or wall panels are the textile art that can reduce the auditory disturbance of sound reflection.

Therefore, the four C's can be useful to look at as it refers to the dynamic within the office.
Contemplation
Collaboration
Communication
Concentration
But there is no one size fit for all answer as it depends on the type of people who work in the office and that type of work is being done. But it is highly beneficial to create office spaces that sound as beautiful as it looks.
The benefits of acoustic comfort are:
48 % increase in task focus
51 % decrease in "conversational distractions"
10 % drop in errors during performance
27 % reduction in employees stress level[2]
Despite the challenges and health issues, the employees prefer open office spaces as it reflects their need for social context. To combat these challenges and remain productive, an office with great acoustics can create a healthier and more beautiful indoor environment for the employees to be more creative and more productive.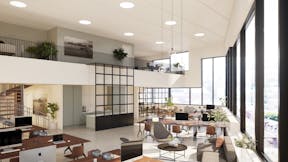 Create beautiful, healthy and comfortable office spaces
Read more about how Rockfon acoustic ceiling solutions have transformed the acoustic comfort in offices