Sound is the core of the acoustic design
Modern buildings and interior design look and feel different than in the past. Now it needs to be different. New designs allow more natural light and warmth by using glass walls, high ceilings and low partitions, and better sound.
One of the most powerful elements in life is sound. It's the vibration that makes us able to hear and it influences our feelings, emotions, and attitude. It can give us a hint on how to experience a location or space as it reveals characteristics of the interior and the comfort.
In acoustic design, the sound is the core. The practical effect of acoustics varies from building types. In hospitals, acoustic comfort helps to minimise sleep disturbances and easing recovery by controlling the noise. In offices where it moves over to a more open office layout, the focus is on speech privacy and control of noise in an open-plan office to minimise distraction. In school institutions, it needs to support flexible and adaptable classrooms.
Fine-tuning the interior design with acoustics
The trend is about how designs can optimise acoustics. The trend is growing and especially, certifications such as LEED® v4 has made it more beneficial to look at how designer solutions can improve the soundscape environment.
Acoustic performance is not only decided on the influence towards its occupants but also developers, sales agents and leasing agents see the benefit. It has moved towards a greener building scheme, where the building's performance also has something to say. Noise control affects the performance of a building and therefore, its attractiveness to potential purchasers and tenants.
Systems that perform noise-masking are becoming more and more mainstream in designer solutions as they're getting cheaper and more sophisticated and better to adjust for different purposes. Acoustics is becoming more common knowledge, and solutions are better integrated into interior layouts.
How acoustic influences the interior design
As sound has such a significant influence on our wellbeing, every space should be treated acoustically as, without proper acoustic measurements, sound can become disturbing noise.
Acoustics is a powerful asset when designing solutions. And it has become a part of the early design phase as designers and architects simply consider "Where are the people, and what to do to make them feel more comfortable while interacting within the area?"
The acoustics of a room should be considered and designed side by side with the interior design. With it being an integral part of the interior, you're able to get the right acoustic design for your space. The need for proper acoustic is now an indispensable part of interior design as there is a need for audible areas and noise control in every space and room.
Why choosing to implement acoustic tiles and panels?
Choosing acoustic ceiling solutions is a step into a new world of a better indoor environment and more sustainable. The acoustic design should fit seamlessly into the interior design and there are many appealing options when it comes to acoustics.
Rockfon acoustic panels are made with core material from stone wool, so they're engineered and designed to reduce and remove sound problems and create beautiful soundscapes in rooms and areas.
The sound-absorbing materials control the noise, lower the reverberation time and create spaces that sound as beautiful as they look. We can offer aesthetic and beautiful acoustic solutions: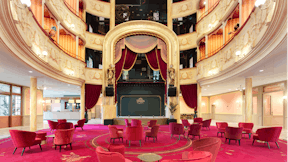 Want to create interior designs that sounds good?
The video dives into how bad acoustics can impact your health but how integrating good acoustics in your design can influence productivity, learning and healing.