What is a modular acoustic suspended ceiling and what can it do to for your interior design?
When you want to re-decorate and improve the quality of the interior space in a quick and easy way to do it is using a modular ceiling system.
A suspended ceiling is fixed beneath the soffit, giving the added benefit of hiding any wires, pipes, lighting installations or other technical solutions behind the acoustic ceiling, while still providing easy access to it. This is a great aesthetic benefit, but the most important one is the improvement of the indoor climate and acoustic atmosphere in the room. By adding sound-absorbing materials to one of the largest surfaces in the space, the ceiling, you're able to reduce reverberation. Have a look at some of the major benefits of choosing a stone wool acoustic ceiling solution
Modular ceilings are very flexible and stable and can be modified with accessories to fit any need.
Discover some of our suspended ceiling systems.
Why choose a ceiling grid system?
A common reason for opting for a modular suspended ceiling system is a combination of price and the functionality of combining individual acoustic ceiling tiles and grids together.
A major benefit of choosing a suspended acoustic ceiling is the flexibility to demount and change the tiles easily individually, without changing the whole ceiling. It's a quick installation process, which is secured by either a click a hook connection. Both have benefits and it's usually decided by preference of the installer.
A suspended acoustic ceiling system is very safe and by playing around with the ceiling tile edges and acoustic ceiling tile colour you're able to personalise the space. Find out which aesthetic is right for you by choosing the perfect ceiling tile edge for your modular ceiling design.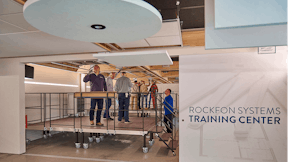 Benefits from training in Rockfon acoustic ceiling installation
How our industry-leading courses give you the edge on your competitors