Foster Biophilic Design with Elements of Nature
Life on earth is changing as we face an escalating environmental crisis, pandemic diseases, and challenges arising from living in a complex and highly digitised global society. It's clear proof that we need to act and change the perception on how we influence our surrounding environment. In fact, it has created a trend, where design solutions shift to a more sustainable profile, focusing on well-being and its impact on people and the planet.
'People will invite nature inside by using colours and natural materials. The growing awareness of holistic design - focusing on sustainability and the need to reconnect with nature - is the main driver for future design solutions. There will be increasing awareness on how our surroundings influence our behaviour and I would expect people will want things they can touch and feel. The holistic design approach will influence how products and solutions support well-being and helps people connect with nature,' said Christian Klinge, Innovation Director at Rockfon.
Natural materials, natural daylight, and green plants are at the core of the biophilic design trend. Humans have evolved to work in and with nature. Even though we live in an urban industrial society, we still benefit from interacting with nature. Designing with natural materials helps us reduce our carbon footprint and trigger health benefits — such as lowering blood pressure and stress symptoms.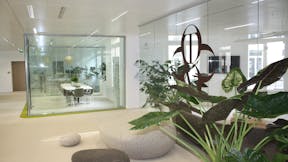 Interior Design Trends That Will Shape the Next Decade
In an interview with our Innovation Director, Christian Klinge, we figured out what will be trending in 2023 and what impact it has on Rockfon.