Studies have found that there is a link between bee population decreases and climate change. Some honeybee species can only survive in a certain temperature range. This forces them to go to higher altitudes, which also limits their living areas. It is critical to give bees safe, non-invasive surroundings to enable them to adjust to new environments. Cities can provide better habitats for bees than rural places because trees and vegetation are less likely to be pesticide-treated. Furthermore, there are fewer common honeybee predators.
Being a beekeeper himself, Nicolas Serval has been a major contributor to the success of the partnership with Bybi. We asked Nicolas a few questions to reflect on the first year of the collaboration.
How has the year been for the bees?
"Last year was their first with us in the Hedehusene (HED) office. They settled down extremely well, despite the ongoing office renovation work. As bees have no interest in our human activities, they have been minding their own business: bringing nectar, pollen, resin, or water to their colony to ensure its development.
We have many natural areas in our office's vicinity, loads of flowers with plenty of nectar and pollen for our guests, as well for all the pollinators out there. For sure the flowers we sowed last summer and the bulbs we planted last Christmas, assisted in increasing the source of supplies for all pollinators. Winter has passed and the bees survived with no issue, despite the late March snow episode! Now they started their spring activities, even stronger than last year!"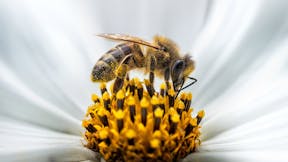 We have CSR on our agenda
Rockfon has just welcomed 240,000 buzzing bees just outside our offices in Denmark.