Improving Acoustics in the Dining Room
The dining room at CCAS has about 60 seats, and its mission is to ensure the daily preparation and service of meals for the residents. However, the space also serves as a venue for activities and promoting conviviality among the users. The city's technical services identified the issue of sound reverberation as a significant challenge that needed to be addressed during the renovation.
The dining room's non-rectilinear shape, coupled with many bay windows, exacerbated the sound reverberation, posing the risk of the Lombard Effect and making the room unpleasant when it was full. Therefore, the choice of acoustic islands was finally selected to meet the project's major objectives, aesthetic and acoustic. The Rockfon Eclipse® islands were installed to improve the room's acoustics and the well-being of the residents.
The Aesthetic Aspect
In addition to the acoustic aspect, the city teams also aimed to make the space more friendly and warm. The technical services wanted white flower shapes on the dark ceiling to bring more contrast and balance the whole in this space with constraining volumes. The white Rockfon Eclipse islands were chosen to meet the project's aesthetic expectations while also providing acoustic comfort to the users of the place. Furthermore, light signage was integrated into some islands, making them more practical.
Benefits of the Renovation
After the installation of the acoustic islands, the CCAS observed a significant difference in the dining room's atmosphere. The occupants found the room much more soothing, and the place became more welcoming. Pascale Cadoret-Weider, Deputy Director of Technical Services in charge of the city's design office, said, "Before the renovation, when the room was full, people didn't enjoy their time there. The sound of cutlery and raised voices made it unpleasant, which isn't how it's supposed to be. But after installing the acoustic islands, we noticed an immediate difference. The atmosphere is much more soothing now, and the room has come back to life. It's much more welcoming!"
CCAS, Marly-le-Roi, France
17 avenue du Général Leclerc
Marly-le-Roi
France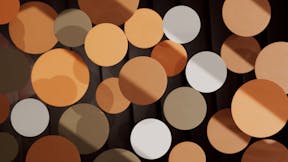 Let Your Imagination Run Free with Rockfon Eclipse Customised Islands
This product gives you complete freedom to customise interior elements, combining unique personalities and style with acoustic excellence.