Custom-Built Design Opens the Door to Better Performance
Harvard Business Review highlights that if a company wants to achieve project milestones, team members need to physically meet and interact. And modular office settings can help, since communication, creativity, and collaboration flow better and more regularly in this environment.
Custom-built interiors tap perfectly into the modular office approach. As offices evolve from the traditional tightly packed desk layout to a dynamic, open-plan space, workspace design should be agile to accommodate creativity and promote different work modes, with multi-purpose spaces and zones. By opting for custom-built designs, occupiers can strengthen their brand identities and bring may personal and professional benefits to the workplace.
A Holistic Custom-Designed Working Environment Supports Creativity
A bespoke workplace facilitates and develops creativity, one of the most valuable currencies in the global economy. Creativity equals productivity, where an organisations' ability to constantly innovate their products and services is directly linked to the company's growth.
A creative workspace should make employees feel comfortable, and it's important to provide the tools and resources they need to be productive. It includes things like adequate floorspace, comfortable furniture and hubs for different work modes. Replacing dull mass-produced furniture with a customised modular design will be uplifting for employees.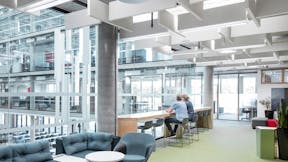 Corporate office design trends: 2023 and beyond
In this article, we'll discuss these important trends in office design, their pros and cons, and provide solutions to potential downsides.