The most crucial concern for this ambitious project was to preserve security and comfort while continuing to uphold the Art Nouveau and Art Deco elements that make this structure a historic gem.
Given the atrium's expansive and modern glass roof, it was necessary to find a solution that would improve the acoustics while also respecting the place's aesthetics. Rockfon Mono Acoustic solutions was chosen for their optimal acoustic performance to install on ceilings in the atrium, spanning more than 3,000 m2.
Rockfon Mono Acoustic: discrete islands and monolithic expanses
The Rockfon Mono Acoustic was selected not only for its top-tier acoustic abilities, but also because it is very versatile and could be adapted to fit the aesthetic of any space in La Samaritaine.
Rockfon Mono Acoustic islands were specially chosen for the central part of the atrium to complement the metal pillar architecture of La Samaritaine. And, with Mono Acoustics installing throughout the galleries and shops, customers will enjoy a bright and harmonious experience while shopping.
A technical challenge: from tracing to lights integrations.
This project required intensive planning to ensure that all equipment, from signage to light fixtures, would be seamlessly integrated into the ceilings.
Nabil Rharbaoui from DBS, a Rockfon Mono Acoustic approved installer (IAMA), explains: "We first had to create custom-made islands to integrate these long luminaires in the Mono Acoustic islands. So we worked on smooth angles inside the islands. The end result is stunning."
The end result is stunning: the long light fixtures seem to float in mid-air, and the light is perfectly diffused on the smooth, matte surface of Mono Acoustic.
The Rockfon Mono Acoustic has brought important acoustic benefits everywhere there are hard surfaces, like metal pillars, huge windows, and a flow of visitors. This solution was also able to be installed on an extended surface as well as on custom-made islands. This acoustic ceiling solution has met the challenges of technical integration while remaining true to the identity of La Samaritaine.
La Samaritaine
9 Rue de la Monnaie
75001 Paris
France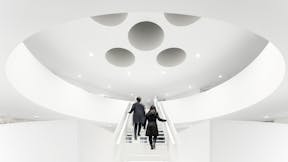 Product Brochure
Get all the information you need about our product by downloading our free brochure!