A timeless interior design is so good that it cannot be affected by changes in fashion or society. It isn't tied to any particular trend, it remains beautiful and practical. Elements in a timeless design do not need to be replaced every few years because they were classic enough to begin with.
This article reflects on our 60 years' experience in acoustic ceilings, advising on thousands of refurbishment and new build projects. Our conclusion is that a seamless⁠—sometimes known as monolithic⁠—ceiling fits into the timeless classic category.
Discrete enhancement to historic buildings
The refurbishment of historic buildings must strike a balance between original charm and modern sensibilities. Take the example of Bewley's Café in Dublin, an Art Deco building, one of the most influential styles of the 20th Century. The café owners kept the original interior features including mahogany panelling, stained-glass windows and tiled floors which looked fantastic, but noise excessively reverberated on the surfaces and the café was way too loud and noisy.
The solution was to keep the appearance of the original ceiling, including the coving, and direct fix a seamless acoustic ceiling to the original plasterboard ceiling to conceal the use of modern acoustic treatment.
There are lots more other examples of discreet acoustic upgrades to historic buildings. Brasserie Astoria in Stockholm is a conversion of an 1870's cinema; Hotel El Llorenc in Palma de Mallorca was originally built in the 11th Century, a 1950's former cinema and basement nightclub is reincarnated as a 6,000 sq m gourmet foodhall in Plateau, Madrid and Solo Sokos Hotel Torni in Helsinki, built in 1931, re-opened its door in May 2022 after a comprehensive refurbishment.
All these hospitality venues have combined history with smooth, unobtrusive modern acoustic ceilings to create the best possible experience for guests and an excellent work environment for staff.
The success of the timeless modern industrial style
The appeal of converting an industrial or warehousing building into other uses is still ongoing, with many design elements of these original buildings⁠—generous floor-to-ceiling heights, clear spans, exposed soffit ceilings, bare walls etc.⁠—also featuring in new developments.
Rockfon has worked on a project for IT company, DocuSign which is a new 9,290 sq m tech hub in Dublin's 'Silicon Docks'. The space's raw, contemporary architecture included exposed soffit ceilings, polished concrete floors, warm timber, glazed meeting rooms and different zones for employees to work flexibly. To control acoustics, the company opted for a combination of a totally exposed soffit in some areas, and a minimalist seamless white acoustic ceiling or long rectangular suspended ceiling tiles in other areas.
In some other projects, including a co-working office Spaces Platinium in Warsaw and the HQ of lifestyle brand, Joules, both occupiers opted to fix a seamless acoustic ceiling directly to the soffit and above the services, allowing them to retain the aesthetic of exposed services, but limiting the noise to Class A sound absorption standards.
Timeless, eco-friendly style
Sustainable interior design needs to maximise the space with versatile layouts, be timeless, and futureproof. Features like a stronger structural system to accommodate vertical additions, generous floor-to-floor heights, clear spans, a separation of IT/plumbing/mechanical/electrical systems will all help to make buildings more adaptable for the future.
Building material choices should not only meet performance requirements and be aesthetically pleasing, but they should be part of a closed-loop system, and should contribute to building rating schemes like BREEAM, LEED or WELL.
Key ways to use your ceiling to create timeless interior design
A ceiling design can create a sense of timelessness. A plain white ceiling can make a space feel clean and calm, while a textured, coloured or patterned ceiling can add warmth and character. Natural materials like stone, wood and metal retain their durability and appeal.
Mix traditional and contemporary elements so the design does not feel like it's a 'themed' space from a specific era. Lighting is key. Warm, yellow light fixtures feel warm and will help to create a cosy atmosphere, while cooler more blue colours like integrated LED lighting provide a more modern feel to a new or refurbishment project.
If a space is lacking in character, use the ceiling to create a wow factor. It's a big area, it can be used to amazing effect. Arches, vaults, curves and more can be easily created to provide a focal point and inject something more dramatic to the space. If you have an historic building that has had its original ceiling ripped out, you can often re-create the original design.
Create a sense of luxury and sophistication with good acoustics. A noisy space is uncomfortable, an overly-quiet can be equally uncomfortable. Getting the acoustics right using discreet, quality materials will make the space feel right.
Like the sound of this?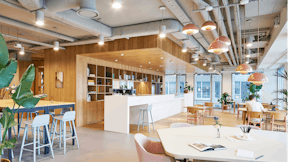 Corporate office design trends: 2023 and beyond
These new trends foster and promote creativity, ingenuity and allow workers to work how they want, when they want, the way they want.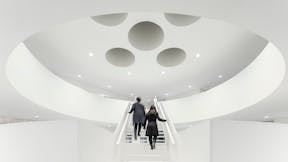 Amsterdam Court House
New Amsterdam Court House have an outstanding acoustic comfort with the monolithic and seamless design from Rockfon Mono Acoustic.