An immersive movie-watching experience should be optimised for both the visual and the auditory. When one of the two is sub-optimal, the entire experience can quickly be spoiled.
So it only makes senses that an acoustic design strategy at cinema centres is imperative – and not just inside the screening halls.
Like all experiential businesses, each touchpoint across the visitor journey acts a lead-up to the cinema experience and later completes it. Besides the screening auditoriums, some areas in theatre centres to optimise for acoustic performance are the box office areas, concession stands, corridors, and toilets. Because of the nature of programming at movie complexes, these areas experience sudden influxes of traffic flows and noise.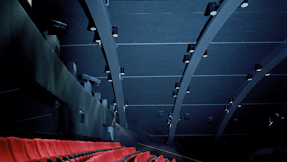 Cinema Acoustic Design Guide
Create the best sound experience for visitors with acoustic ceilings and wall panels.