Different people, different needs
Every day many people visit hospitals, and they interact in each space in their own way. At hospitals, the built environment generates the right atmosphere to keep patients and caregivers feeling comfortable, safe and healthy. This heightens the building's complexity and influences the way we think about the design of a hospital.
The first impression count
Reception and waiting rooms
The first area a patient meet on their journey through a hospital is the reception. It's essential to have a welcoming, tranquil and secure atmosphere for the patient to feel safe and not overwhelmed. The best advice is to keep the interior bright and warm the visually cultivate the feeling of care and wellbeing. It's often a busy place; therefore, information and navigation must be clear.
Acoustically, the reception needs to have good noise control absorbing the many disturbances to make the spaces calm to be in and a good light reflection to create a bright space for the patients to wait in.
Keep your ceiling looking smooth and bright
Waiting rooms are a part of the treatment, and to make the patient feel calm, the room must have a warm and tranquil feeling with natural light and calm colours.
We know that public areas with many visitors take their toll on people; the challenge is to keep them comfortable, so we've some acoustic design tips to consider:
Bright coloured acoustic solutions to calm the senses
Choose high-class acoustic ceiling and wall solutions to make a pleasant acoustic environment
Bring plants and vertical planting to divide the space and soften the echoes
We recommend products as Rockfon Blanka® and Chicago MetallicTM Matt-white 11 as they both have a unique surface. Rockfon Blanka has a high light reflection and light diffusion properties that draw daylight into the spaces. Both acoustic solutions have high-class sound absorption to contribute to a calmer and more pleasant environment.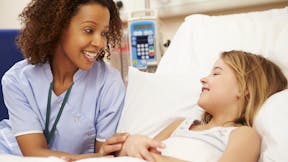 Noise from equipment, patients, staff, medical alerts and technology is a significant problem in healthcare institutions. Our acoustic solutions create calmer, healthier buildings where patients can rest, heal and feel more at home.