The interior design of your healthcare building has the potential to substantially improve a patient's visit. You can utilise it to alleviate stress and encourage relaxation in a variety of ways, even if it's as simple as changing the decoration in waiting areas.
Biophilic Design in Hospitals
Often, a potted plant on a plastic laminate counter is used to simulate "nature" in healthcare facilities. Hospital trusts should consider the potential saving of $93 million [1] in annual healthcare costs by giving patients access to nature through views of the outdoors. Natural textures should also be used in hospital interiors because in biophilic environments, post-operative recovery time decreased by 8.5% [1] and pain medication decreased by 22% [2].
Biophilic design ideas are used in healthcare facilities to improve patient outcomes and reduce staff stress. Healthcare designers may make hospitals more comfortable by making basic choices — such as employing more natural building materials or incorporating more natural lighting.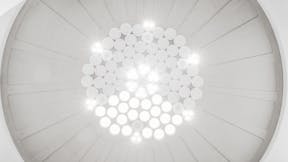 Neuroarchitecture: When the Mind Meets the Built Form
Explore examples of how neuroarchitectural principles can be applied to hospitals, clinics, and assisted living facilities.