As the UK education system evolves, educators increasingly recognise the importance of building engaging learning environments that meet the unique needs and challenges of all students. Adding colours and textures to a classroom is about more than aesthetics. They can directly improve each student's ability to learn.
The Impact of Colour on Student Learning
Colours can impact attention spans, ease of focus on "dull topics", and the ability to retain information. Colour psychology research has established how colour affects learning outcomes.
Colour and Student Perception
A study published in 2021 [1] found colour played a significant role in student perception, with specific colours creating anticipated learning outcomes. The results found that some colours, specifically white, green, and blue helped add a feeling of curiosity, satisfaction, and hope. On the other hand, black and grey had the opposite effect, creating feelings of worry and fear. The study found a direct link between colour in learning spaces and student performance, mood, and behaviour.
Colour and Memorisation
Another study, published in 2015 aimed to determine how colour impacted students' abilities to memorise words. [2] It found:
Group 1: Words presented in shades of grey
Group 2: A specific colour corresponding to each word
Group 3: Random colours applied to words
Group 2 performed 34% better than Group 3 and 8% better than Group 1. This showed that not only did colour help the students recall the words. Students presented with random colours performed worse than those offered with no colour at all, showing a direct link to the learning outcome.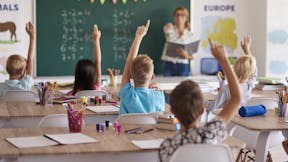 Do you like the sound of a happier, healthier school?
Most schools and universities struggle with noise in classrooms, sports halls, swimming pools and canteens. We can help reduce noise levels so that students can learn and play happily, while teachers stay calm and focused.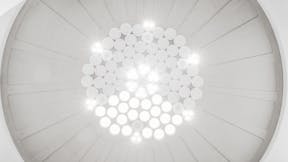 Neuroarchitecture: When the Mind Meets the Built Form
From natural lighting to acoustics, explore examples of how neuroarchitectural principles can be applied to educational spaces.