Around 800 million young children around the world are affected by biological, environmental, and/or psychological conditions that can limit their everyday abilities. In Europe, recent estimates suggested that there are at least 15 million children with special educational needs (SEN). 7.5% of them were identified with autism, whilst roughly 15% of them have dyslexia – the most common learning disability and perhaps the best known.
Unfortunately, children with SEN are frequently overlooked in policymaking, limiting their access to equal education and their ability to develop their skills and realise their full potential. They face persistent barriers to participate in society, stemming from ignorance and discrimination. This leaves them with few qualifications and are much greater likelihood of being unemployed or economically inactive.
Disability is one of the most serious barriers to
education across the globe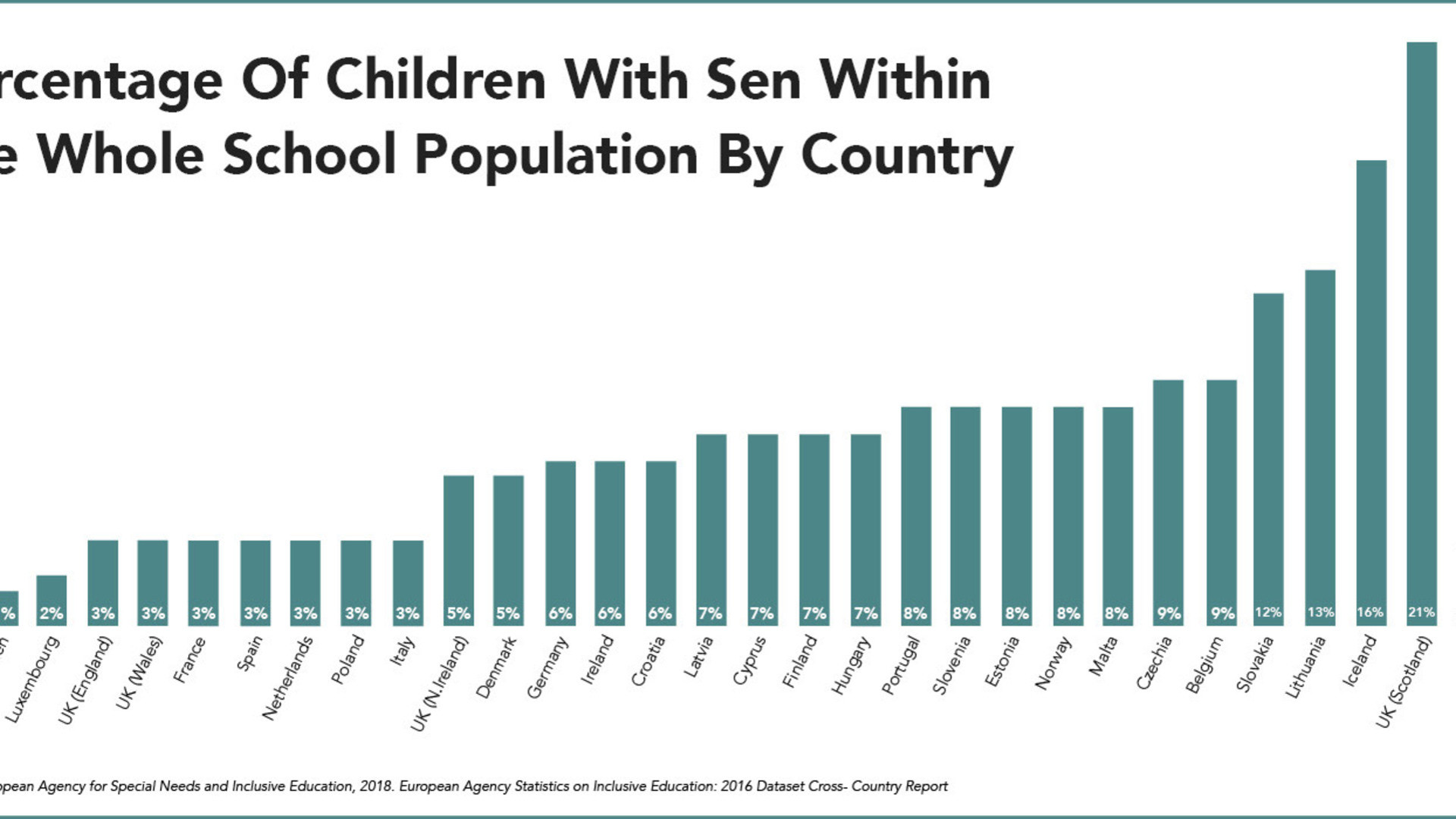 As an architect, it is time to look beyond the conventional and commit to actively building a diverse, equitable, and inclusive world — starting from the classroom, where every student feels welcomed, valued, and heard, and is treated with dignity and respect.
In this article, we explore 7 design aspects that help facilitate inclusion, learning from diversity, and being more adaptive with the current technological advancements.
This isn't an exhaustive list — do reach out if you have additions!
What is inclusive design in education?
The term "special needs education" means different things in different countries. The SEN Code of Practice updated in 2015 defines special educational needs under four broad areas:
1. Cognition and learning
These are learning disabilities that limit children from learning basic numeracy or literacy skills. The conditions can be ranging from dyslexia (difficulties with reading and spelling); dyscalculia (maths); dyspraxia (co-ordination) and dysgraphia (writing).
2. Behavioural,

emotional,

and social
Children may have severe difficulties in managing their emotions and behaviour. They require a more structured learning environment, with clear boundaries for each activity and more space to move around.
3. Communication and interaction
Here, the need is for an easily understood environment with a low level of distraction due to some difficulties in communicating and understanding language. This includes a range of conditions such as autism, pragmatic difficulties, or sensory processing disorder.
4. Sensory and/or physical
These children might suffer from some forms of disabilities that affect their ability to access the environment or learn. Classrooms for children with sensory or physical impairments require special attention to acoustic and lighting conditions.
What is Inclusive Education?
The European Agency for Special Needs and Inclusive Education (EASNIE) referred to inclusive education as "the provision of high-quality education in schools that value the rights, equality, access, and participation of all learners."
This means all children in the same classrooms, in the same schools. It allows real learning opportunities that some groups have traditionally been excluded, not only children with disabilities. They can follow education in mainstream classes alongside their peers for the largest part — 80% or more — of the school week.
A beautiful conversion improved by acoustic materials
BuBaO Sint-Lievenspoort School is a school for special elementary education, working with children who have hearing problems or who are on the autism spectrum, putting more focus on quality acoustic solutions to balance the sound levels and create comfortable learning hubs.