From Noisy Classroom to Learning Hubs
Educational facilitates are notoriously known to be noisy. However, with a few acoustic improvements, they can turn into learning hubs where teachers can teach and the students can hear, learn, and think. Consequently, this can lead to a better academic performance.
Additionally, it's important to remember that designing an educational facility is building the future of tomorrow, as the surrounding environment supports, facilitates, and encourages students to learn.
Our broad range of acoustic solutions give you the freedom to design — whether you are looking to regulate noise in the classroom or need impact-resistant acoustic solutions in gymnasiums — we've got you covered!
Get the Right Acoustic Solutions for Different Areas at School
Communal and Breakout Area
The bell rings and the doors open, students pour out of their classes to the hallways, where they can find their way to the school yard or head to another room for their next lessons. The hallways are multi-functional spaces that welcomes and guides students, teachers, and visitors through the school, as well as being a hangout space for students during breaks.
Unfortunately, this chatter and heavy foot traffic can often lead to high levels of sound reverberation, which can be alleviated by small acoustic adjustments. To hit the acoustic sweet spot in these areas, durable acoustic ceilings and wall solutions are needed to ensure that noise is effectively controlled.
Product Recommendations
Administration Office
Teachers' well-being matters. The administration areas of schools are for teachers to go and prepare for their lessons, chat with colleagues, and socialise; hence, privacy is an essential factor. Teachers need to feel safe and know that what is discussed doesn't leave the room.
Sadly, these areas can easily be forgotten as the focus are on the learning areas.
Product Recommendations
Classroom
The classroom is one of the most important rooms in a school. It's here the dreams, hopes and knowledge form and grow. It's where students come together to collaborate, think, and learn. And nowadays, learning process can happen in multiple ways that requires careful considerations on acoustics.
The traditional way of teaching needs to consider the speech intelligibility of the teacher so that the students in the back of the room can properly hear what is communicated. Group work requires controlling the sound level in the room to avoid distractions and excessive noise.
Product Recommendation:
Colour is one of the decisive elements that can either enhance or inhibit the learning experience. It influences our emotions and affects our attention and willingness to work. Bringing in colours to a classroom is a great way to communicate the intended purpose of the space. Matte, soft, and warm colours have been known to help concentration levels. Why not combine this with acoustics and choose a coloured ceiling?
Product Recommendation:
Kitchen and Cafeteria
Kitchens and cafeteria serve many students day by day. They gather, eat, talk, hangout, or even study, making these places bustling with a lot of activities and the noise levels can be exceedingly high. if the acoustics is not considered, unwanted sounds can spread to other areas of the school. Nonetheless, these places also require prominent level of hygiene. And furthermore, the design should incorporate a variety of interior design elements like colours or shapes to show different zones or tell a story about the values or character.
Product Recommendation:
Gymnasium
The students are excitingly shouting and throwing balls, gym equipments are ricocheting off the floor and walls, and the teachers are trying to instruct and be heard. This cocktail of noise has a detrimental effect and can easily lead to the Lombard Effect, influencing both physiological and psychological well-being. Hence, keeping a healthy indoor environment can benefit both children and teachers.
Product Recommendation
The latest trends in schools
Dynamic learning
As we've seen in recent years, schools are moving away from the industrial style of learning, where a teacher stands in front of the students, imparting knowledge with little to no interaction. Today's schools are much more dynamic, where students debate, learn by doing, and work in teams.
This places a larger emphasis on inclusive classroom design and the need to control noise levels in greater ways than before. How can we help speech intelligibility and actively directing or blocking sound to improve teachers and students' happiness? Our acoustic ceiling and wall solutions meet the absolute best performance standards on the market that helps improve a students' ability to concentrate, think, and learn.
Shared spaces
What we see now is that schools aren't only teaching in the classrooms; hallways, and lounges are becoming breakout spaces for interconnection and interaction. Adding to the complexity, schools aren't just used for learning anymore, they're becoming integrated into the wider community — a shared space for everyone. The neighbourhood can utilise the space after school hours, maximising the real estate and building relationships with the town or city. Where do we come in?
Creating spaces that function for multiple purposes means that the design needs to appeal to a variety of users. Our acoustic solutions are built for modularity, making it easy to reconfigure a space to look as good as they sound.
A safe space
As we've recently seen, the pandemic has forced schools to become more responsive. This has led to design tweaks that have a much higher focus on hygiene, more focus on ventilation systems and the cleanability of building materials throughout the school, in much the same way that you would find in the healthcare sector.
How can we support you? Our ceilings are made from stone wool, which is naturally resistant to mould and bacteria. They are easy to clean and designed to meet the most rigorous hygiene codes and safety regulations.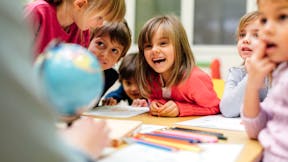 Do you like the sound of a happier, healthier school?
Most schools and universities struggle with noise in classrooms, sports halls, swimming pools and canteens. We can help reduce noise levels so that students can learn and play happily, while teachers stay calm and focused.