Although the term is relatively new, neuroarchitecture is by no means a new field. While the architects of places of worship like the Sagrada Família in Barcelona, Spain or the Notre Dame Cathedral in Paris, France might not have referred to peer-reviewed journals for neuroscientific research, they were undeniably looking to trigger a certain cognitive response associated with a sense of divinity in their architecture. Such efforts can be referred to as neuroarchitecture.

Science has continuously flourished over the past 50 years to offer so many empirical insights to other disciplines, including architecture and interior design. Today, architects and interior designers have access to a wealth of data, baseline performance measures, and case studies to refer to. And many practitioners have been making use of such resources as part of the ever-popular evidence-based approach, which, much like neuroarchitecture, aims to provoke responses with the senses.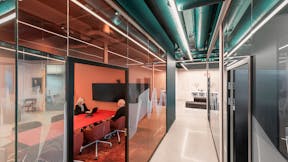 Harnessing Evidence-Based Office Design
What role will scientific research play in the future of the workplace? Judging by the steadily increasing interest in evidence-based design, a large one.