An escalating environmental crisis and the recent Covid-19 pandemic has given sustainability and well-being a tremendous amount of attention, driving green architecture and the use of natural building materials to the next level.
The Rise of the Sustainable Biophilic Design Trend
Biophilic design trends have gained traction as they have proven benefits for our physical and mental wellbeing. By introducing nature into our spaces — like wood, water, natural lights, and plants — biophilic design practices are a more environmentally friendly choice and improve spaces so we feel more relaxed and comfortable in them.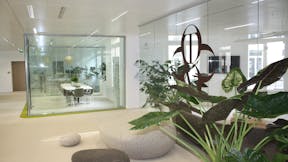 Interior Design Trends That Will Shape the Next Decade
In an interview with our Innovation Director, Christian Klinge, we figured out what will be trending in 2023 and what impact it has on Rockfon.