The linear "take, make, waste" economic model is reaching its limits. The environment simply does not have the capacity to sustain it any more. Take a circular approach, however – where waste is minimised and resources are re-used efficiently – and you can create an economy that's both sustainable and profitable.
Nowhere is the shift to a circular model more urgent than in construction. Consuming three billion tonnes of raw materials every year, it's the single largest consumer of resources and it produces around one-third of all waste, much of which ends up in landfill. As a result, buildings are a key focus of policies and guidelines issued by the EU, which is championing the circular economy .
We upcycle waste materials
The ROCKWOOL Group's business model already incorporates circular economy thinking. We upcycle waste materials, recycle our own waste in closed loops and design products for long life and indefinite recycling. One of the most valuable features of stone wool is that it can be made with materials that would otherwise be landfilled or downcycled. Overall, around one-third of our raw materials consist of repurposed waste from metals manufacturing, power plants and wastewater treatment. We can upcycle for instance slag from the metal industry and sludge from water treatment plants, and even in small amounts old ceramics like broken bathroom sinks and toilets.
Design for disassembly
Another key aspect of the circular economy is called "design for disassembly". In order for products to be recycled they must be easy to take apart and separate into different materials. Using building materials that are modular and easy to dismantle also make it possible to reuse them when making changes to spaces, rather than having to throw them away.
Stone wool also yields products that maintain the same performance over their long lifetime and are easy to dismantle, reuse and recycle. Its qualities make ROCKWOOL products an indispensable ingredient as we progress to a more sustainable, circular economy.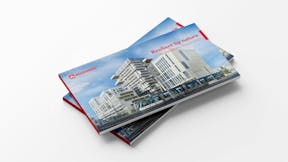 Sustainability at ROCKWOOL Group
Learn how we as part of the ROCKWOOL Group can contribute to building a better future.

Circularity at ROCKWOOL Group
Watch how our RockCycle scheme helps construction companies, building owners, and governments meet their recycling goals.