Transforming waste into more valuable products
We're all familiar with the idea of recycling. Specialist companies take waste products (plastic bottles, for example), process them, and turn them back into plastic bags, fleece clothing or other plastic items. It's an excellent way to reduce waste. But there's an even better way. With 'upcycling', waste is transformed into more valuable products, thereby reducing the need for virgin materials.
Even more sustainable than recycling, upcycling turns waste streams – including existing landfills – into a long-term source of raw materials for industry and reduces the need for virgin raw materials. It transforms a social and economic problem into a valuable resource for the future.
Most recycled waste materials such as plastics, metals and paper are in fact "downcycled". This means that because recycling reduces their purity, they are recycled to lesser grades, and eventually end up as waste. The process reduces waste overall, but mostly does not replace the virgin materials used in original products. Aluminium is the exception: it can be infinitely upcycled.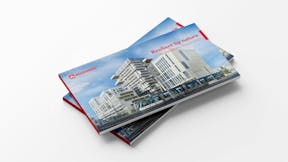 Sustainability at ROCKWOOL Group
Learn how we as part of the ROCKWOOL Group can contribute to building a better future.