Untapped potential
Worldwide, buildings consume too many resources and produce too much waste. They use 25 percent of the world's water and 40 percent of its resources, while creating one-third of all waste and 40 percent of global carbon emissions. Seen through the prism of these statistics, they're environmentally unsustainable.
But buildings also have huge untapped potential to become a central part of the solution to our urgent sustainability challenges. Eco-friendly designs can combat climate change while improving our health, wellbeing and productivity.
To achieve this, it's important to take a comprehensive approach to planning, design and construction that looks at every facet of sustainability. Focusing on just one approach can have a negative effect on the building's overall performance, which is why standards developed by ISO (International Standardisation Organisation) and CEN (European Committee for Standardization) now make it possible to measure sustainability over a building's entire lifecycle. These standards go beyond environmental performance to include how buildings contribute to health, safety and wellbeing.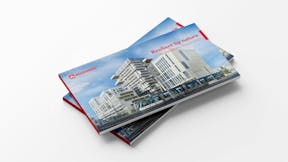 Sustainability at ROCKWOOL Group
Learn how we as part of the ROCKWOOL Group can contribute to building a better future.

Part of the ROCKWOOL Group
Some of our sister brands also offer solutions to meet this challenge.