The key to great design
Bringing a specific vision into a reality, while juggling the needs and expectations of the customer, is one of the many things that makes interior design a thrilling and continuously stimulating job. While challenging, and maybe even extremely frustrating at times, when the two elements successfully meet, excellent design is what's created. As Tony Stavish of A.W. Stavish Design said "The key to great design is capturing the spirit of the client and the essence of the space".
When designing a building, one area that can often be overlooked as a design element in a space is the ceiling. According to Stephen Fanuka, who is a "contractor to the stars" in New York City, the ceiling is not to be overlooked or unused, in fact, he refers to it as the fifth wall in a room.
It is really interesting how Fanuka highlights the importance of the ceiling. By repositioning how we look at it, it easily becomes another dimension for creative expression and a canvas to design with.
What can you do with all that extra space?
The fifth wall
Recently the ceiling has become much more of a linchpin in designing many commercial spaces.
More and more we are seeing deliberate choices to explore bold ceiling design solutions, be that with colours, more refined suspended ceilings, different surfaces and materials or specific room types. For example, Deb Barnes, the Director of Interior Design with HGA Architects and Engineers, an American design firm, says "You can really influence the fit and feel of a space when you use the ceiling plane as a design element".
It is really very interesting to see how the ceiling has evolved to become an important element of interior design.
A beautiful ceiling is more than just meets the eye
A ceiling can be much more than just a striking standout piece - it's at its best when it also has a functional component. An important part of interior design is creating a healthy environment. The ceiling, because of its size, is a great means to focus on achieving optimal lighting, acoustics and creating an overall indoor climate where people are going to be as comfortable being in the room as they are looking at it.
A functional and beautiful ceiling design can be like any stunning work of art.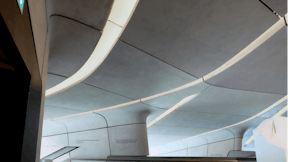 Find great acoustic solutions that improve the interior design of your ceiling