Over the past 25 years, there has been a significant shift in architecture and design to make buildings more sustainable and better for the environment. Building rating schemes are an important tool for achieving this goal. The number of green building rating tools and schemes is growing rapidly across Europe and there are many sustainability experts and design strategies that can help architects along the way.
Green building rating schemes and sustainable buildings
A green building rating scheme is a system used to benchmark buildings and provide an indication of their environmental performance. Building rating schemes are designed independently by different organisations that set the rules, criteria for assessment and points awarded for meeting these requirements. There are many types of green building rating schemes, but some of the most popular ones are BREEAM, LEED®, DGNB and WELL.
These green building rating schemes help owners understand the potential savings on their operational costs as well as opportunities to attract tenants or buyers who want 'green' credentials.
What are the benefits of building rating schemes?
The benefits of a green building are only beginning to be realised but the evidence so far points in one direction - that green building can offer solutions for global problems like climate change, building communities and generating economic growth.
The environmental benefit of green buildings
The environmental benefit of green buildings is well-documented. Important environmental benefits from green buildings are witnessed in the reduction of water, energy and natural resources and can even increase biodiversity around them, positively impacting our climate natural environment.
The economic benefits of green buildings
There are also significant economic benefits to green building. For one thing, it can spur innovation in the design process as designers compete to think up more efficient ways of using resources - with a clear benefit for their clients. We can see that green buildings can save money linked to utility costs, improved property values, lower construction costs, better occupancy rates and lower operating costs.
The social benefits of green buildings
The benefits of green buildings extend further than just the environmental and economic benefits. Green buildings have shown to improve the indoor environment, improving people's health and wellbeing. This can be seen with fewer sick days, better employee retention and cognitive performance.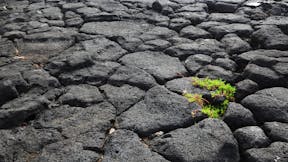 Natural. Circular. Sustainable.
By working with Rockfon, you are getting much more than acoustic solutions. You contribute to a more sustainable future.