The Importance of Reducing Workplace Waste
The world's population extracted 92 billion tons of natural resources in 2017 but cycled only 8.5 tonnes, according to CGRi, a think tank that undertook a comprehensive circular economy study in 2020. [1] Despite a trend toward sustainable solutions, the number of globally extracted raw materials is increasing, a UN report says. [2]
Industrialised countries consume a disproportionate share of the earth's natural resources. For example, Europeans need between two and three times the planet's resources to maintain their current lifestyles. [3] If we are to continue as an industrialised society in the future, we must find a way to recirculate more resources.
Businesses are at the heart of the efforts to keep materials in circulation. Because companies use so many resources, their support is critical to creating a circular economy, according to the Ellen MacArthur Foundation, which provides resources for creating a circular business model. That business model must find a sustainable solution and reduce resource consumption. [4]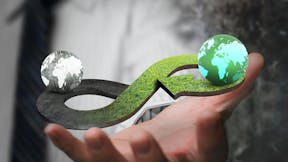 Circular Economy in the Construction Industry
Join us as we explore the topic of the circular economy and its central role in the construction sector in depth.