The Global Hotel Industry: Growth and Travel Trends
After the unprecedented travel restrictions imposed during the 2020 COVID-19 pandemic, the global hotel industry is experiencing a revival. In 2023, the worldwide hotel sector is predicted to have a value of $408.80 billion[1]. By 2027, it is expected to have a market volume of US$483.4 billion, with an estimated annual growth rate (CAGR 2023-2027) of 4.28%[1].
As countries continue to lift pandemic restrictions in 2023, this growth looks set to accelerate. Holidaymakers seeking to make up for lost time will increase hotel occupancy rates while also looking for more unconventional types of holidays.
Furthermore, with the rise of private home bookings via a range of digital platforms, such as Airbnb, hotels are going up against fierce competition to satisfy customer demand.
With a stronger focus on their overall experience, hotel guests today have higher standards, and the ever-changing environment of travellers has prompted numerous adjustments in the hospitality sector. And, many hotel companies are turning to eco-consciousness, well-being, local infusion, and smart-room technologies as part of their design strategies.
Let's take a closer look.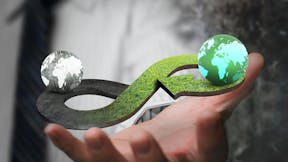 Circular Economy: What, Why and How in Construction
There is only one planet Earth, yet by 2050, the world will be consuming as if there were three. The tourism industry accounts for around 5% of global greenhouse gas emissions. They predict that the sector's emissions are on course to grow by 130% by 2035.