Revitalizing Outdoor Spaces for Green Education
Yuverta's commitment to a greener future is brought to life through the 4Outside program, which prioritizes sustainability while enhancing the aesthetics of the campus. According to BDG Architecten, "We strive for total concepts with a positive impact on people's living environment. Our integrated approach in relation to sustainability and the well-being of the students is reflected in the design of Yuverta vmbo back on all fronts." This comprehensive initiative positions Yuverta as a leader in green education. As part of this transformation, the Wellantpark has been integrated, offering a diverse array of ecological landscapes, show gardens, nurseries, water filters, animal enclosures, and greenhouses.
Creating Space for Education, Collaboration, and Wellbeing
BDG Architecten strategically repurposed existing structures, effectively utilizing available space and staying within budget. According to Marco de Jong, architect partner at BDG Architecten, "By reusing the building, we have managed to create extra space for education and meeting within budget to realize. In line with Yuverta's curriculum, we have two greenhouse areas on either side of the old auditorium added, creating an orangery. This orangery marks the central middle area and connects the educational domains." This versatile space serves as a sheltered winter garden, fostering collaboration and strengthening the connection between theory and practice. It provides a welcoming environment where students can learn, collaborate, and thrive, promoting a sense of belonging and wellbeing within the campus community.
Enhancing Wellbeing through Thoughtful Design
BDG Architecten's design approach prioritizes student wellbeing by implementing Rockfon Krios panels for the ceilings. According to Marco de Jong, "Rockfon Krios is a well-known and good ceiling plate for us. This has proven itself in the education sector." These panels are known for their exceptional sound absorption and high light reflection, contributing to optimal learning conditions. In changing rooms and showers, Rockfon Hydroclean panels have been installed. According to De Jong, "With its many hard surfaces, which are ideal in terms of hygiene and cleanability, the changing rooms and showers in schools are often very noisy. That is why it is important to look for acoustic ceiling solutions that damp sound reflection, but which are also resistant to the humid conditions in these rooms." These thoughtful design choices, as highlighted by De Jong, contribute to a safe, clean, and comfortable environment for students, promoting their overall wellbeing.
Through their sustainable renovation efforts, integration of outdoor education spaces, and focus on student wellbeing, BDG Architecten has successfully transformed Yuverta Dordrecht into a dynamic and environmentally conscious campus. As De Jong concludes, "Our integrated approach in relation to sustainability and the well-being of the students is reflected in the design of Yuverta vmbo back on all fronts. A place that encourages collaboration and meeting and where students, employees, and external partners can feel at home."
Yuverta Dordrecht
Groenezoom 398
Dordrecht
The Netherlands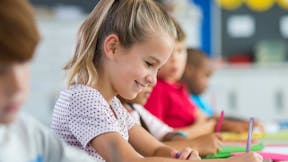 From Noisy Classroom to Learning Hubs