Mhmm! Now that sounds good
Poor acoustics in restaurants are a growing trend and looking at the reviews on platforms like TripAdvisor and Yelp, the customers are voicing their opinions on their experiences. US National Restaurant Review found that the 2nd most common complaint from restaurant visitors was noise.
When a customer walks into a restaurant, they should feel like they want to be there. The busyness mustn't drive the people away and a restaurant ceiling shouldn't give the feeling of being done at the last minute. Both bold and subtle colours will be on the top of the restaurant design menu as it influences the customers' senses.
Give the right welcome
Reception and bar area
A comfy restaurant reception and bar areas are an integral part of the restaurant landscape and play an important role in keeping the customers from leaving on a busy night. These areas are major focal points and a great opportunity to tie a slightly different design theme from the other sections. Unfortunately, the reception and bar area have many hard and reflective surfaces that are terrible for acoustics.
By adding an acoustic solution you can easily create a space that sounds as beautiful as it looks.
Acoustic tips:
Be playful and fun with adding colours and other design elements to create a social environment
Have round edges or three-dimensional features to break up the smooth surfaces that reverberate noise
Use highly sound-absorbing material to control the noise levels.
Add artwork, greenery and soft furniture
We recommend products like Rockfon Blanka®, Chicago Metallic™ Matt-White 11 Grid and Rockfon Eclipse® as they both give outstanding acoustic comfort. Rockfon Eclipse is frameless islands with excellent sound absorption, and it's a great element to complement an industrial-style design. Chicago Metallic Matt-White 11 Grid gives your design a unique surface with a monolithic look.
Play with colours
Be bold and play around with our 34 bold, long-lasting and inspiring colours. Rockfon Color-all® is a versatile acoustic ceiling solution available in concealed, semi-concealed and visible grid solution giving you total design freedom.
Kill the noise, not the vibe
Dining area
Food and décor is the focus in every restaurant, and many of them don't realise that they have a serious noise problem affecting customers and staff, potentially hurting the business. Modern restaurant design tends to be minimalist with open kitchens, hard, smooth surfaces and materials like concrete, wood and glass.
Together they create stunning visuals but terrible indoor climates that kill the atmosphere. The dining experience is more than just great and exciting food, it's creating special moments for people. People in restaurants want to feel comfortable, almost like they were at home. It's important to get the right sound levels to kill the noise and enhance the vibe.
Acoustic tips:
Focus on enhancing the acoustic environment by using highly sound-absorbing ceiling and wall solutions to control the noise levels
Add other porous materials in the dining area like, tablecloths, curtains, rugs and chairs with fabric on them to limit the number of hard surfaces where the sound can reverberate.
Creating a better experience for the guests, adding extra sound-absorbing materials underneath the tables will absorb excessive noise.
We recommend products as Rockfon Blanka® and Rockfon Eclipse® wall panels. Rockfon Blanka gives you the best acoustic properties to ensure a comfortable noise level. The deep matt and super white surface help to capitalise on natural light. Rockfon Eclipse wall panel is an aesthetic, frameless wall solution perfectly fitting a clean, minimalistic design. They can be used on their own or ideal for complementing every space.
Stand out with excellent sound
Rockfon Eclipse® is innovative and aesthetically pleasing frameless islands giving excellent sound absorption. It's a great way to complement a minimal style restaurant as they're quick and easy to install to improve the acoustic environment.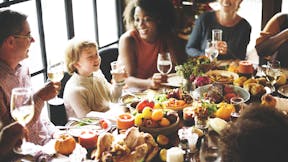 Design for restaurants
Mmm! How acoustic solutions create a fun and pleasant atmosphere and that help customers taste their food better.