A ceiling protects and gives space for mechanical, electrical and ventilation installations. They're the surface where you install speakers, lighting fixtures, fire and smoke detectors and so much more. But what advantages do you have when choosing an exposed soffit ceiling solution?
What are the benefits of exposed soffit ceiling solutions?
In some buildings, the interior calls for an "unfinished" ceiling and then expose the structural and mechanical components. That's exposed soffit ceilings solutions. It offers economic advantages and ease of accessing the installations for maintenance. It can also expose the thermal mass where you can install heating or cooling elements that are easy to access.
The open ceiling trend is getting popular as it offers more design flexibility and lighting options. It gives an industrial look and making the rooms look more spacious as you've more height. Many architects like the qualities of exposed soffit as it usually suits the design vision of the building. However, by removing the suspended ceiling tiles there is a need to replace the lost acoustic benefits.
The advantages are many but some of the important ones to highlight are the following:
You will get more natural light in your interior as you have the feeling of more space where the light can reflect.
A better indoor climate as the hot air has somewhere to travel. With the higher ceiling height, you give the hot air a place to travel to, so it makes your spaces feel cooler and more pleasant.
Creativity! You can be creative with how to make the interior stand out. You can add a raw element to the design as you expose the ventilation or other installations giving it an industrial touch. Or play around with different frames or islands to add that extra thing for the interior to stand out.
What acoustic products can I choose when I want an exposed soffit ceiling solution?
Creative and innovative acoustic solutions, available in Universal White and 33 inspiring colours from the Rockfon Color-all range.
Flexible free-hanging acoustic solutions, perfect for humid or harsh indoor environments or for areas that require regular cleaning.
Functional free-hanging acoustic solutions that are suitable for noisy industrial environments. Control the noise and create comfortable soundscapes.
Economic and aesthetically pleasing, frameless acoustic baffles that are suspended from the ceiling and absorb the noise so the area is comfortable and enjoyable to concentrate in. They are very easy and quick to install.
Innovative and aesthetically pleasing frameless acoustic ceiling island, offering excellent sound absorption and supplied in a smooth, deep-matt, super white surface providing high light reflection, light diffusion and anti-static properties, extending its product lifetime.
When to install an exposed soffit solution?
You probably wonder when you should install an exposed soffit ceiling solution, and we can recommend installing it:
If a traditional suspended ceiling technically is not right. In the case of a thermal mass building then an exposed soffit solution can be the right solution for you
If a different ceiling design is needed, and the more traditional ceiling solutions don't fit the profile. Then you can install an exposed soffit solution to have an acoustic improvement
If you want to room acoustic improvements, then an exposed soffit solution is your go-to choice as it comes in three different types of ceiling design. You can choose between tiles bonded to the soffit, suspended baffles and suspended islands.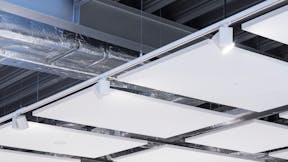 Where do acoustic solutions meet unlimited creativity?
The answer is at Rockfon. We offer a variety of creative ceiling and wall solutions enhancing acoustics and aesthetics. You have the freedom and we'll give you outstanding soundscapes.