A dining experience should be memorable and enjoyable. If you've ever left a restaurant feeling irritated or exhausted, you have experienced how noise in a restaurant plays a big role in the experience.
How Does Noise Affect Our Well-Being?
For most, being exposed to noise is just an annoyance that will pass when we leave the noisy space. Despite being a temporary annoyance, the unwanted noise can lead to hearing loss,[1] tinnitus,[2] hyperacusis[3], cardiovascular and disease[4] as well as stress, anxiety, insomnia, high blood pressure and increased heart rate[5].
Let's put it into a real scenario: if we're conversing and you're listening to me from 1 metre away it will be around 60dB. It means that it's a safe and healthy noise level. But if we've the same distance but I'm playing the trumpet with around 115 dB, it will most likely damage your hearing.
You should know that hearing damages not only cover how loud the noise is but also depending on the time you're exposed to a constant high noise level. For example, being one hour in a noisy environment of 94 dB can cause hearing loss.
In some cases, hearing loss can be temporary but if vital ear parts are exposed too long and too much noise, it can cause irreparable damages. For all these reasons it's important to be aware how noise influence our health and wellbeing and be aware of the safety measures for a proper sound reduction.
The Impact of Restaurant Noise on Customers' Dining Experience
Several studies show[6,7,8,9] that an average noise level of 94 dB is not an exception in restaurants. The highly noisy environment influences the customers and their experience, but the true horror is the people working in restaurants are daily exposed to the unwanted noise. For many years, the top 1 complaint from visitors of restaurants, cafes and bars were about the service. But within a few years, the number one complaint has become noise[10].
According to research[11], half of the visitors in a noisy restaurant remain seated despite the excessive noise but they will never come back. I am sure you've experienced getting the wrong order simply because you couldn't hear each other, right? That's what we call bad speech intelligibility in a noisy environment.
People would visit a restaurant more often if the indoor acoustic environment would be improved. And it seems that an acoustic improvement is urgent as 8 out of 10 people have problems holding a conversation in a dining area [12].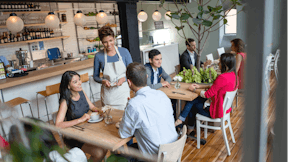 Acoustic solutions for better restaurant design
The impact of sound on taste. Add some acoustic elements to your interior design and create the surroundings for a dining experience that is memorable and enjoyable.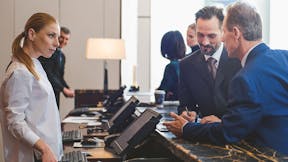 Breaking the Vicious Cycle of the Lombard Effect
When we increase our vocal efforts to be heard within a noisy environment, we inadvertently contribute to the existing high noise levels – making the environment noisier.