Let the light in
Beyond aesthetics, light is vital to human functioning and affects the comfort, health and mood of individuals. By focusing on increasing the daylight and lighting quality within a space, you can create a brighter environment that effectively provokes productivity and well-being.
Here are some simple and effective ways in which you can bring more light into your room to create a happier, more productive space.
Step 1: Opt for a light colour scheme
When designing your space, keep your colour pallet light as pale, because satin colours will reflect the light and warm, matte colours will absorb it. Incorporating lighter shades of colours on the wall such as eggshell and cream will help to bounce light around the room.
As the largest unused space in a room, the ceiling is also a great place to start when enhancing natural light in an interior. Designing a white ceiling in your space can help boost the perceived illumination by reflecting the bits of natural light that are available.
The benefits of natural light create beautiful effects that create greater well-being and nurture visual comfort. Using ceiling materials with high light reflection and light diffusion, it can draw 11 % more light into a building.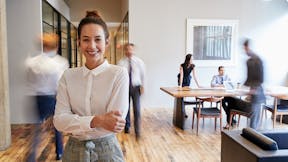 Create healthy spaces for better well-being
Our acoustic ceilings help people to create, concentrate and collaborate, while improving productivity and wellbeing at work.