How does noise affect our health?
For most of us being exposed to noise is just an annoyance that will pass when we leave the noisy space. But did you know that being exposed to unwanted noise can lead to hearing loss [1] tinnitus [2], hyperacusis [3] and cardiovascular disease [4]? And not to forget stress, anxiety, insomnia, high blood pressure and increased heart rate! [5]
Let's take a real scenario: if we're conversating and you are listening to me at a 1-meter distance it will mean around 60 dB, it's a safe and healthy noise level. But if you would be at the same distance and I'm playing the trumpet with around 115 dB, it will most likely damage your hearing.
You should know that hearing damage is not only about how loud a noise is. It highly depends on how long you are exposed to a constant noise level. For example, being one hour in a noisy environment of 94 dB can cause hearing loss. In some cases, hearing loss can be temporary. However, it can become permanent when vital parts of the ear are exposed to excessive noise and have made damages that can't be repaired. For all these reasons it's important to be aware of the noise impact and take safety measures for a proper sound reduction.
Restaurant noise, can it be discrimination?
Several studies have been made [6,7,8,9] and unfortunately, an average noise level of 94 dB is not an exception in restaurants. It influences the customers and their experience but the people working in restaurants are exposes to these noise levels too. For a long time, the top 1 complaint from visitors of restaurants, cafes and bars were about the service. But within few years, the number one complaint has become noise [10]. Most of us are just irritated about the noise. The ones with hearing impairments dare to go even a step further. They are not talking about irritation but discrimination [11]!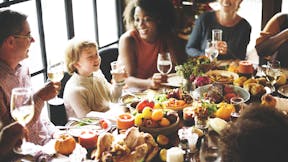 Acoustic solutions for better restaurant design
The impact of sound on taste. Add some acoustic elements to your interior design and create the surroundings for a dining experience that is memorable and enjoyable.