How happy are you at work? According to a study by the Harvard Business Review, people who are happy at work are more collaborative, productive, and have better relationships with their colleagues. But how do you make your workplace happier?
What is Happiness?
Creating a happy workplace starts with the meaning of the word: "happiness". The first to investigate "happiness" was the Greek philosopher Aristotle (384 - 322 BC) and Chinese philosopher Zhuangzi (369 - 286 BC).
Aristotle said, 'Happiness depends upon ourselves,' meaning that how people enjoy what they have and how much they appreciate the essence of life, define happiness. So, it's up to the individuals to value happiness and even figure out what immense happiness means to them.
According to the Cambridge Dictionary, 'happiness is the feeling of being happy.' Reflecting that happiness is an emotional state characterised by feelings of joy, satisfaction, contentment, and fulfilment. While happiness has many different definitions, it's often described as involving positive emotions and life satisfaction. And because happiness tends to be such a broadly defined term, psychologists and other social scientists typically use the term "subjective well-being" when they talk about this emotional state.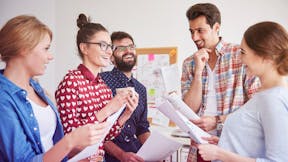 Boost Productivity in Flexible Offices
Our acoustic ceilings help people to create, concentrate and collaborate, while improving productivity and well-being at work.