For 2021, design solutions that focus on sustainability will become imperative, and well-being will be high on the agenda. Let's explore some of the trends that will take centre stage.
What will be different from the past years?
For a few years now, everything from walls and ceilings to countertops needed to be bright white, acting as the canvas for statement pieces and design classics.
But this is about to change. People will start cocooning and focus on creating visual interest and a relaxing atmosphere using colours and natural materials inviting nature inside. The growing awareness of sustainability, holistic design and the need to reconnect with nature for well-being will be the main features of 2021.
At Rockfon, we are about to walk the talk.
In an interview with our Innovation Director, Christian Klinge, we figured out what will be trending in 2021 and what impact it has on Rockfon. He is the go-to person if you want to understand how these new trends will influence customer needs and their choice of design.
What will be the major trends dominating and influencing interior designs when we talk about well-being, sustainability and innovation?
I am convinced that nature-based design or biophilic design or anything that is linked to simple green living will be trending for not only 2021 but also the next coming years. This based on the desire to act on the big environmental challenges we experience and respect nature as the foundation for life. Also, issues related to the COVID-19 pandemic, the aspects of globalisation and over-population will steer us toward more simple and green living. A way of living that requires a better-balanced relationship with the natural world around us. Now's the time to start taking responsibility also in the design industry.
I would say that the days of futurism and materialism is past when we talk design. The whole concept of "use and waste" is not feasible any longer, and people are more informed about how their behaviour influences their surroundings. Even the expressions and methods applied in architecture, where specific computer-generated designs have been trending will change. I think that for the next coming years, people will want something warm, embracing and unique. Things that they can touch and feel, something natural which is not posing a threat to our existence.
This aspect of taking responsibility, in every sense, will be a dominating factor and a vast topic, perhaps the biggest, when it comes to design, architecture, production, and choice of materials.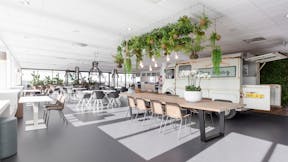 Acoustic excellence & indoor comfort
Read more about how Rockfon acoustic ceiling solutions have transformed spaces to be bright, so they sound as good as they look.